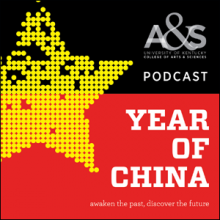 With the help of a generous grant from the U.S. State Department, UK has been able to forge a partnership across the Pacific. On March 29th, 2012, three UK scholars will go to deliver lectures for the Inaugural Symposium for the American Studies Center at Shanghai. Rich Schein and Patricia Ehrkamp from the Department of Geography and Doug Boyd from the Louie B. Nunn Center for Oral History will be lecturing on "Urbanization in the American South." The symposium will be the first of its kind at Shanghai University, but will be followed later this semester with another series of presentations about Appalachian art, literature and culture in May. 
Andy Doolen, an associate professor in the Department of English and Director of the American Studies program, is also serving as the Director of the American Studies Center in Shanghai. In this podcast, Doolen talks about the upcoming symposium, the story behind the partnership, and what UK and Shanghai University aspire to do for one another in the future. 
This podcast was produced by Cheyenne Hohman. 
This work is licensed under a
Creative Commons Attribution-NonCommercial-ShareAlike 3.0 Unported License
.