by Will Fawns
(Oct. 16, 2014) – The University of Kentucky's Dr. Allan Butterfield will be receiving the Society of Free Radical Biology and Medicine's (SFRBM) Mentoring Excellence Award at the society's national conference in Seattle, Nov. 19-23.
In his 39 years at UK, Butterfield has graduated more than 65 doctoral and master's degree students and approximately 150 undergraduates. He has also trained about 20 postdoctoral scholars.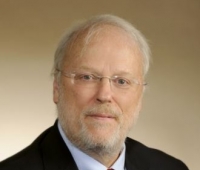 In 2012, he was selected to be a fellow of SFRBM and earned their prestigious Discovery Award for his work in the field of redox research related to Alzheimer's disease. In 1998, he earned a trip to the White House to receive the Presidential Award for Excellence in Science, Mathematics, and Engineering Mentoring from President Bill Clinton.
"This Mentoring Excellence Award from SFRBM is highly meaningful to me because it validates my efforts of paying forward what was done for me when I was an undergraduate and graduate student – namely, providing a laboratory environment that is full of encouragement and support particularly for women, Appalachians, and persons of color, who are each underrepresented persons in the discipline of chemistry," Butterfield said. "In my opinion, students I have mentored feel validated in their pursuit of their dreams and, consequently, produce even more important research in our quest to understand and treat Alzheimer's disease."
Butterfield is the Alumni Association Endowed Professor of Biological Chemistry at UK and serves as director for both UK's Center of Membrane Sciences and the UK Markey Cancer Center's Free Radical Biology in Cancer Shared Resource Facility. Additionally, he is a faculty associate for UK's Spinal Cord and Brain Injury Research Center and is a faculty member of UK's Sanders-Brown Center on Aging.