By Richard LeComte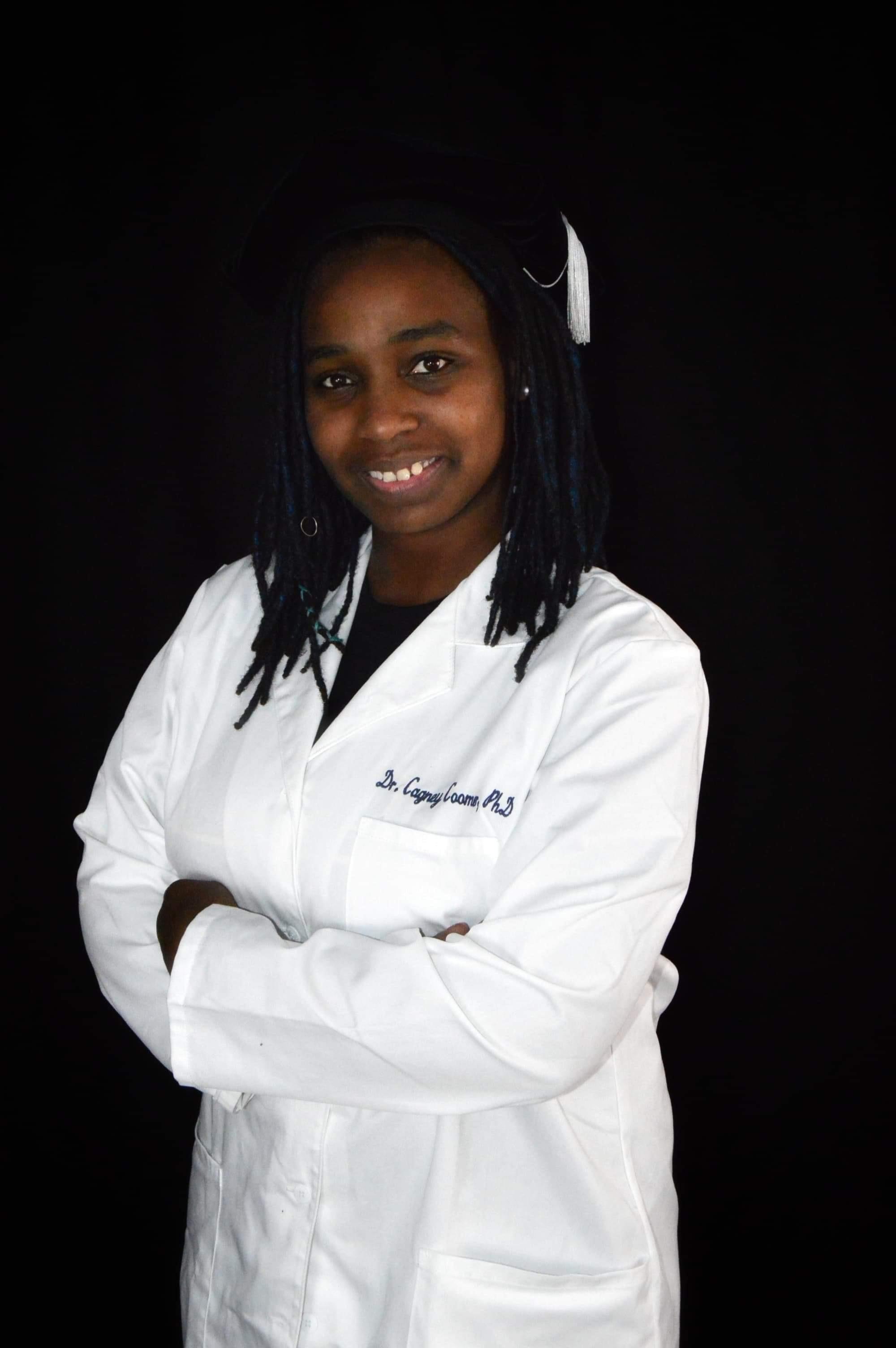 Cagney Coomer has three big achievements under her belt:  She earned a doctorate in Biology from the University of Kentucky in the College of Arts & Sciences; she started a nonprofit to encourage kids to pursue science and technology; and her research unlocked the secrets of two genes in the eye – the subject of her dissertation.  
"I studied two genes that had been studied in other organs but their function in the retina was unknown," said Coomer, who defended her work in July. "I found they're involved in photoreceptor maintenance, survival and regeneration."
And with that, Coomer advanced humanity's knowledge of genes and the eye, under the guidance of her dissertation adviser, Ann C. Morris, associate professor of biology.
"It has been an absolute pleasure to work with Dr. Coomer over the past six years," Morris said. "She has produced an impressive body of research during her Ph.D., and she is relentlessly curious and excited about developmental biology and genetics. She is passionate about encouraging young people from underrepresented groups to believe in their potential, and she is herself a successful role model for these students, as she demonstrates every day her enthusiasm and commitment to a career in scientific research."
Coomer, who is a Lexington native, earned her B.S. degree from Virginia State University and spent six years as a doctoral student at UK. Her research involved using the high-tech equipment at the University to study genetics, specifically regeneration, development and genetic diseases. In addition, she has worked on sequencing projects at the Advanced Genetic Technology Center core facility.
"I wanted to get a Ph.D. so I could be a research scientist," she said. "When I first applied for my Ph.D., I had an interest in genetics and developmental biology, but I didn't have a particular interest in retinal eye diseases. Then I started to realize that, personally, I took my own vision for granted, and I began to empathize with people who have visual impairment or blindness. I was like, 'Whoa – that's such an important thing to take for granted.' So I decided to pursue that research."
Along with her classwork and research as UK, she worked as a teaching assistant and as a mentor with the College's residential STEMCats program. Most recently, she led a BIO 199 lab for STEMCats that looked at genetic mutant analysis of zebrafish. She enjoyed working with undergrads, leading them investigations involving the phenotypes  found in mutant zebrafish.
"I loved being the TA," she said. "I loved giving students a chance to think up projects and get something out of real research and experiments as well as learning skills like how to work with microscopes. We have them take the microscopes apart and put them back together all the basic things."
Coomer found her calling at an early age.
"Honestly, I wanted to be a scientist since I was 8," she said. "Over the course of my years I worked with plants and I worked in fields. I finally got a chance to work with model organism that were associated with human diseases – that was my real interest."
And her parents are elated at her achievements.
"My family thinks it's the greatest thing ever," she said. "My mom tells prefect strangers I'm her doctor daughter every chance she gets. And my dad he cries just randomly when he talks about how happy he is."
Even before she started her doctoral program, Coomer decided she wanted to give something back to her community. She started the NERD SQUAD, a nonprofit group in Lexington that encourages girls of color to become interested in STEM fields.
"I often was the only Black woman in my classes, and I'd ask why I was the only one," she said. "People would say people of color weren't interested in science. So I decided to go out into the community to get kids interested – you can't get interested in something you're not exposed to."
As part of the program Coomer and her volunteers host weekly STEM-related activities that "make the kids think and ask questions." Recently, Coomer came up with an activity that grabbed the girls' interest.
"We turned the girls into cosmetic chemists," she said. "We had them look at the science behind making different soaps and lotions, eye liner and other things.
We had them make their own cosmetic products and come up with their own cosmetic line."
As Coomer leaves Lexington, she looks forward to starting a post-doctoral stint at Dartmouth studying the differences between the right and left lobes of the brain. She hopes her time at UK will leave a legacy for other women of color to follow in her footsteps.
"I hope I did make an impact," she said. "I hope I had some influence on how things are implemented in our department – how they operate, how they function. I also hope I influenced their efforts to recruit more students and faculty of color."