(Nov. 24, 2014) — With Thanksgiving around the corner, cooks across the Commonwealth may still be deciding what traditional Kentucky dishes must be served at the annual holiday feast. A new book by retired faculty member of the University of Kentucky Department of Anthropology, John van Willigen, might just have the answer.
While many home chefs and foodies enjoy reading and collecting cookbooks, few scholars have examined them with an eye toward what they can tell us about the culture that produced them. In "Kentucky's Cookbook Heritage: Two Hundred Years of Southern Cuisine and Culture," anthropologist and food scholar van Willigen examines cookbooks from the Commonwealth that have been published over the last two centuries.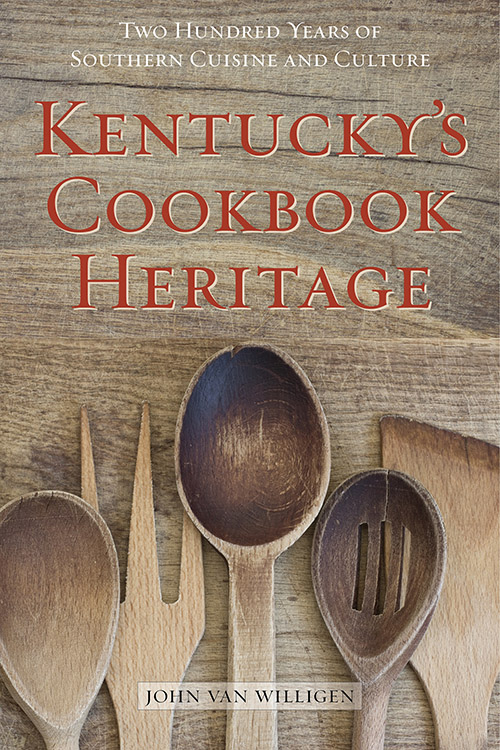 Van Willigen analyzes cookbooks for the glimpse they provide of what Kentuckians ate, how they prepared food, the cooking technology they used, and the changing social setting of food preparation and consumption. He traces the developments in recipe format, as well as how assumptions about what constitutes common culinary knowledge have changed. In addition, van Willigen's book by University Press of Kentucky (UPK) explores how the cookbook enterprise has been structured by gender, class and ethnicity, including documenting the Native American origin of many foods important to Kentucky and the broader South.
Beginning with Lettice Bryan's "The Kentucky Housewife" (1839), which reflects the food traditions of the region's upper-class white households in the decades prior to the Civil War, van Willigen surveys the breadth of cookbooks from the Bluegrass State. He charts the rise of cookbooks from a novelty to a business, tracing the rise from less than 20 published prior to 1900 to the more than 200 that have been published since 2000.
Van Willigen breaks down the cookbooks into two general categories: community or charity cookbooks, like "Housekeeping in the Bluegrass" (1875), which was published by the women's group of the Presbyterian Church in Paris, and those written by food writers, chefs, restaurateurs and celebrities with Kentucky ties, such as Louisville caterer Jennie C. Benedict's "The Blue Ribbon Cookbook" (1904), though no edition published in her lifetime contains the recipe for her famous Benedictine spread.
In addition to tracing Kentucky's culinary history, van Willigen also illuminates the lives of its important figures. He tells the story of Nancy Green, the Montgomery County native who became the original Aunt Jemima, as well as that of Bowling Green native and pioneering food critic Duncan Hines. In addition, "Kentucky's Cookbook Heritage" features more than 80 sample recipes spanning the Commonwealth's history, making it both an informative and useful addition to the library of anyone who cares about food in the Bluegrass State.
A professor emeritus of anthropology at UK, van Willigen is the author of many books, including "Food and Everyday Life on Kentucky Family Farms, 1920–1950."
UPK is the scholarly publisher for the Commonwealth of Kentucky, representing a consortium that now includes all of the state universities, five private colleges and two historical societies. Led by Director Stephen Wrinn, its editorial program focuses on the humanities and the social sciences. Offices for the administrative, editorial, production and marketing departments of the press are found at UK, which provides financial support toward the operating expenses of the publishing operation.
Kentucky Corn Dodgers from "Kentucky Cook Book" (1894)
Directions: 
Make up one pint of meal, with one teaspoon of salt, a piece of lard the size of an egg, mix with warm water and sweet milk, (don't make too thin as you cannot handle to make nice smooth pones) work the mixture well, with your hand until perfectly smooth, then make into pones, put on a hot baker that is well greased, cook in a hot oven, put on top shelf and let brown first, (as it prevents cracking) then place at the bottom and finish cooking.
Scalloped Oysters from "Favorite Recipes: (1938)
Ingredients:
1 pint oysters
4 tablespoons oyster liquor
2 tablespoons milk or cream
½ cup stale bread crumbs
1 cup cracker crumbs
½ cup melted butter salt and pepper
Directions: 
Mix bread and cracker crumbs, and stir in butter. Put a thin layer in bottom of a buttered shallow baking dish, cover with oysters, and sprinkle with salt and pepper; add one-half each oyster liquor and cream. Repeat, and cover top with remaining crumbs. Bake thirty minutes in hot oven. Never allow more than two layers of oysters for Scalloped Oysters; if three layers are used, the middle layer will be underdone, while others are properly cooked. A sprinkling of mace or grated nutmeg to each layer is considered by many an improvement.
Woodford Pudding from "Housekeeping in the Blue Grass"  
Directions:
Three eggs, one tea-cupful of sugar, one half tea-cupful of butter, one half tea-cupful of flour, one tea-cupful of jam or preserves, one teaspoonful of soda dissolved in three teaspoonfuls of sour milk. Cinnamon and nutmeg to taste. Mix all well together and bake slowly in a pudding pan. Serve with sauce.