By Jake Most
The University of Kentucky's Chelsea Oswald has added to her already impressive collection of awards both on and off the track, as she has been named Southeastern Conference Track and Field Women's Scholar-Athlete of the Year.

Oswald was named 2013 SEC H. Boyd McWhorter Female Scholar-Athlete of the Year recipient earlier this season. The McWhorter Award goes to the conference's top scholar-athlete across all sports.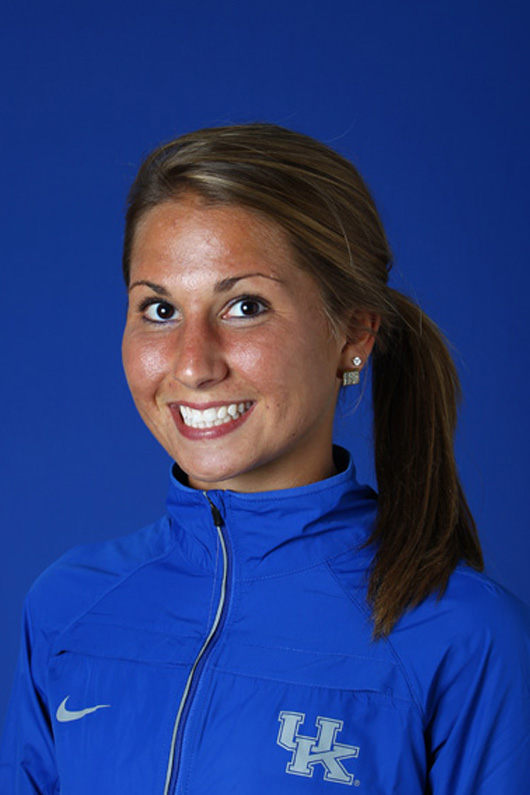 Oswald was also named First Team All-SEC, having won two conference championships – at 5,000 and 10,000 meters – last weekend at the SEC Meet.

She set the SEC 10K record, and was fewer than two seconds off the conference 5K record.

Oswald is an NCAA Postgraduate Scholarship recipient and also the recipient of the NCAA Elite 89 Award, which goes to the competitor with the highest grade point average at each of the NCAA Championships. She won the award for the indoor season.

Oswald has been a member of the SEC Academic Honor Roll, the Athletics Director's Honor Roll and the Dean's List each semester of her collegiate career. She has maintained a 4.0 GPA throughout her college career, and was a 2012 USTFCCCA All-Academic selection.  She recently graduated with a degree in biology.

Oswald was a 2012 cross country All-American and 2013 indoor track and field All-American in the distance medley relay and at 3,000 meters. She was First Team All-SEC for the 2012 cross country season, as she was Bronze Medalist at the Conference Championship.
The Medina, Ohio, native was selected to the 2013 SEC Track and Field Community Service Team.

The league office announced all the 2013 Outdoor Track and Field Awards, with five Wildcats picking up some form of All-Conference accolades.
Raymond Dykstra, Andrew Evans and Matt Hillenbrand all earned Second Team All-SEC accolades as each of the three was runner-up in their respective events (Javelin, Discus and 1,500 meters) the SEC Championships.

Evans and Dykstra were both All-SEC selections last season. Hillenbrand was First-Team All-SEC for the 2013 Indoor Season as he was the conference mile champion. 

MacKay Wilson was named to the Freshman All-SEC Team as his sixth-place performance in the 3,000-meter steeplechase at SECs was the highest finish by a freshman in that event.

First Team All-SEC honors go to the first-place finisher in each of the 21 events per gender at the SEC Championships. Second-place accolades go to each event runner-up. Freshman All-SEC status is awarded to the top freshman finisher in each event.

Kentucky will next compete at the NCAA Championship East Preliminary Rounds May 23-25 at Irwin Belk Track in Greensboro, N.C., hosted by North Carolina A&T State University.

Kentucky will send 27 entries (14 men and 13 women) to the NCAA East Preliminary Rounds.