By Whitney Hale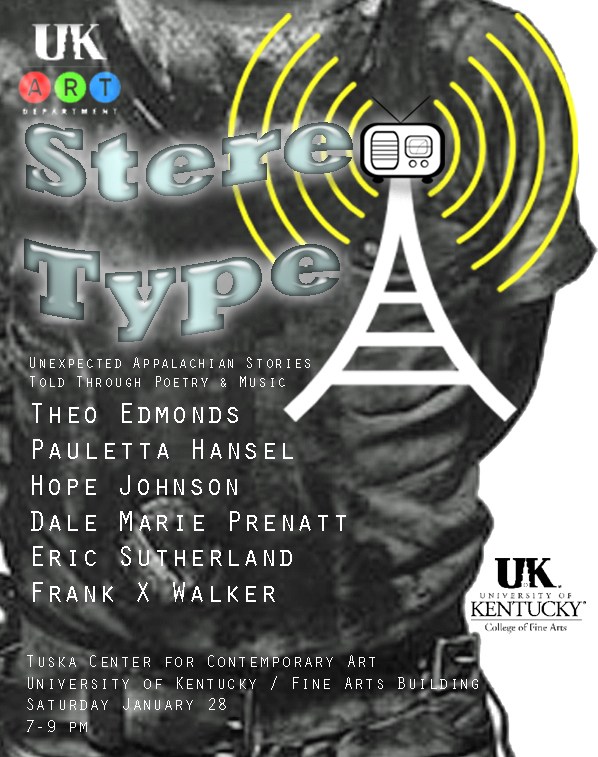 Leave your stereotypes of Appalachia at the door as the University of Kentucky Department of Art challenges preconceived notions of the region through an evening of poetry and music at "StereoType: Unexpected Appalachian Stories."
The reading, featuring poets Theo Edmonds, Paulette Hansel, Hope Johnson, Dale Marie Prenatt, Eric Scott Sutherland and Frank X Walker, will begin 7 p.m. Saturday, Jan. 28, at Tuska Center for Contemporary Art. The event is free and open to the public.
Through a focus on social justice issues as well as multiple themes of family, race, gender, sexuality, identity and place, "StereoType" will challenge the stereotypical notions of a homogeneous Appalachian landscape. 
Theo Edmonds is a poet, artist and performer pursuing a master's degree in art at UK. He currently is serving as graduate student director of the Tuska Center. Edmonds holds a bachelor's degree from Transylvania and a juris doctor and master's degree in healthcare administration from Tulane University.
Pauletta Hansel is a poet, teacher and author of three poetry collections. She is a current editor of Pine Mountain Sand and Gravel, the literary publication of Southern Appalachian Writers Cooperative. A native of Jackson, Ky., Hansel currently resides in Cincinnati, Ohio.
Hope Johnson is a native of Lexington, Ky., with roots in Harlan County and Hazard, Ky. The author of the poetry chapbook, "Beneath Saran," she is a graduate student at UK. She earned her bachelor's degree in English from UK in May 2011.
Dale Marie Prenatt lives in Cincinnati. A poet, performer, artist and storyteller, she is originally from Buffalo Creek, W. Va.
Eric Scott Sutherland, of Lexington, is founder and host of the long running Holler Poet Series. He is the author of "tall tales," "the psychonaut sails" and "incommunicado."
The much published poet Frank X Walker is founder of the Affrilachian Poets. He is an associate professor of English at UK and publisher and editor of PLUCK!, the Journal of Affrilachian Art and Culture.
The entire reading of "StereoType" will be accompanied an improvised jam session by Kevin Holm-Hudson, associate professor of music theory and guitarist, and will be filmed by art graduate student Natalie Baxter.
Doors for "StereoType" will open at 6 p.m. Individuals planning to attend are also invited to peruse the 2012 UK Art. Department Faculty Show, currently on display at the Tuska Center for Contemporary Art through Feb. 17.  To view more info about the faculty art show, visit www.facebook.com/​events/196455630451281.
Part of the UK Department of Art in the UK College of Fine Arts, the Tuska Center for Contemporary Art is on the first floor of the UK Fine Arts Building, located on Rose Street. The gallery, named for late UK faculty member and artist John Regis Tuska, is dedicated to the exhibition of contemporary art of regional and national importance.