By Sarah Geegan
Ever wanted to hang out with an archaeologist or learn more about what it is they really do? Archeologists at the Kentucky Archaeological Survey and the University of Kentucky will lead a guided tour of historic features and artifacts uncovered at Ashland – The Henry Clay Estate in Lexington, followed by a visit to a prehistoric earthwork site known as Mount Horeb, located just off Iron Works Pike. The bus excursion will take place Friday, March 15, as part of the 30th Annual Kentucky Heritage Council Archaeology Conference.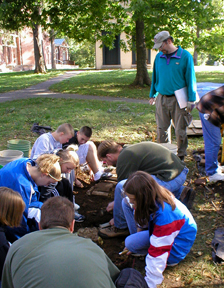 Historic archaeologist Kim McBride will conduct the tour of Ashland, discussing excavations and discoveries on the grounds of the home over the last several years. Her tour will include the former slave quarters and privy sites that were filled with artifacts dating to the time that Henry Clay lived there. Known as "The Great Compromiser," Clay (1777-1852) was a noted lawyer, politician and statesman who served three terms as our nation's speaker of the House and also served as secretary of state under President John Quincy Adams.
McBride is co-director of the Kentucky Archaeological Survey (KAS), a partnership between the Kentucky Heritage Council, the State Historic Preservation Office and the Department of Anthropology at the University of Kentucky.
Mount Horeb is one of a complex of sites in rural Fayette County associated with the Adena, a once-thriving Native American culture who lived in the Ohio River Valley from about 500 B.C. to 300 A.D., a time known as the Early to Middle Woodland period. The Mount Horeb Complex consists of several ceremonial and special activity sites constructed about 2,000 years ago, the remnants of which can be seen on the landscape today. The Mount Horeb enclosure was extensively excavated by University of Kentucky archaeologist William Webb beginning in 1939 as part of the Works Progress Administration.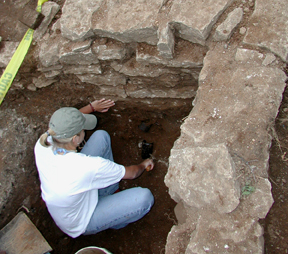 Eric Schlarb, a staff archaeologist with KAS, will lead a discussion of Webb's findings and a tour of the site.  He has published extensively on Adena ritual sites and is co-author of "Adena: Woodland Period Moundbuilders of the Bluegrass," available for purchase from the Kentucky Heritage Council.
The tour will depart at 10 a.m. from the Crowne Plaza Hotel at 1375 South Broadway, Lexington. Tickets are $10 per person. The tour includes a stop for lunch at Windy Corner Market, where participants may order a box lunch in advance ranging from $9 to $11. The tour will conclude at the Crowne Plaza at 2:30 p.m.
Register online and purchase tour and lunch tickets at http://www.preservationkentucky.org/pages.php?id=34, or for more information email nicolas.laracuente@ky.gov.
For more information about archaeology in Kentucky, see:
Ashland – The Henry Clay Estate:
http://heritage.ky.gov/kas/kyarchynew/Ashland.htm or www.henryclay.org
Mount Horeb:
http://heritage.ky.gov/kas/kyarchynew/Mt.+Horeb.htm
Did you know?
http://www.heritage.ky.gov/kas/didya.htm
Archaeological myths and misperceptions:
http://www.heritage.ky.gov/kas/archmyths.htm
Facts about Kentucky's pre-history and prehistoric cultures:
http://www.heritage.ky.gov/kas/kyprehist.htm
An agency of the Kentucky Tourism, Arts and Heritage Cabinet, the Kentucky Heritage Council / State Historic Preservation Office is responsible for the identification, protection and preservation of prehistoric resources and historic buildings, sites and cultural resources throughout the Commonwealth, in partnership with other state and federal agencies, local communities and interested citizens. This mission is integral to making communities more livable and has a far-ranging impact on issues as diverse as economic development, jobs creation, affordable housing, tourism, community revitalization, environmental conservation and quality of life. www.heritage.ky.gov