by Saraya Brewer
photos by Lee Thomas
Leave it to a graduate student in film studies to hammer out aspects of horror from one of America's most beloved family Christmas classics. "It's Christmas film noir," said Colleen Glenn about "It's a Wonderful Life." "It's an extremely dark film." "It's a Wonderful Life" is just one of the handful of Jimmy Stewart films that Glenn, a University of Kentucky English Ph.D. candidate with a specialty in film studies, has watched (and re-watched, analyzed, paused, rewound, and watched again) for her dissertation, in which Stewart and other great actors of the mid 20th century –– including Paul Newman, Frank Sinatra, and John Wayne –– will each get their own chapter.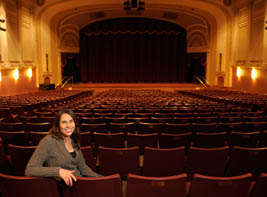 "I grew up watching old classic movies on PBS with my family, so I really have my parents to thank for my original interest in film," Glenn said. "I grew up knowing Bing Crosby and Bob Hope and Grace Kelly. I think I was fortunate to have been exposed to those kinds of classic films." It was the chronically hysterical characters played by Stewart, however –– one of her favorite actors –– that initially piqued Glenn's interest in the subject that would come to be the topic of her dissertation: the crisis in masculinity in post-World War II films. "I noticed that he's always so tortured, suicidal, deviant in some kind of way, distressed, obsessive," she said of Stewart. "As I was sort of investigating what might explain this, I made the connection with post-traumatic stress syndrome. World War II is a war in which you have 16 million veterans coming home at one time. This massive influx of returning veterans, mostly men, caused a tremendous amount of anxiety within the culture. While there was joy with the homecoming, there was also a lot of fear and concern about how the veteran would readjust to peacetime America."
Post-traumatic stress syndrome was unheard of during and immediately following World War II –– at the time, it was called combat fatigue, though it was rarely spoken of at all, as Glenn points out. "There's a lot of silence about war trauma," she said. "There is even now, even though we talk much more about it since Vietnam than we ever did before. But part of what I am arguing is that when you have an unpopular war, it opens the door for speaking more frankly with the trauma associated with that war." This historic silence created somewhat of an obstacle in finding primary sources from the period about war trauma, forcing Glenn to get a bit creative in her research. ""Ladies Home Journal" and "Science Newsletter" have provided some of the most important sources," she said.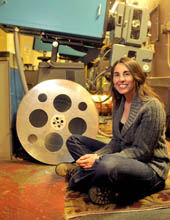 Glenn has also looked to material published in fan magazines — from writers such as celebrity gossip columnist Hedda Hopper — as sources that might help her argument that "each one of these stars negotiates the malady of PTSD in some way." Films Glenn has looked at for her research include "From Here to Eternity," "Vertigo," "Rear Window," "The Manchurian Candidate," and "The Man with the Golden Arm." "For the most part, I'm not looking at war movies," Glenn said. "I'm interested in how the trauma of the war gets displaced in these films that claim not to be about the war at all." Originally from Ohio (where she got her bachelor's degree in English at Ohio University), Glenn cites the relationship she was able to develop with her professors at UK as a primary factor in her decision to continue on with her doctorate after getting her master's at UK. She cites Michael Trask and Pearl James, two of her committee members, as careful readers whose advice has helped shape her methodological approach to her project, and courses she took with Armando Prats with exposing her to the films that would trigger her interest in masculinity in film.
Glenn also cites Alan Nadel as a "terrific mentor" who guided her to think "beyond the term paper" well before she was at the dissertation stage and is helping prepare her for the job market. Glenn, whose personal favorite films include "The Philadelphia Story" and "Easy Rider," hopes to go on the job market to become a professor next December, with the expectation of defending her dissertation in the spring of 2010. Glenn has also enjoyed her professional experience at the University of Kentucky, where she has been grateful for the opportunity to teach a number of film and literature courses. "It's wonderful being able to teach something you're passionate about," she said. Another way that Glenn has optimized her time in Lexington is by participating in the Bluegrass Film Society. The society recently initiated a once-a-month screening of cult films at Al's Bar, a favorite north Lexington hangout. "We felt that cult films and B movies would be the right kind of genres for a bar setting," Glenn said. "We want people to feel like they can talk. Heckling is encouraged."