Leah Bayens

by Rebekah Tilley
photos by Richie Wireman
For many of us, our freshman year of college is the first transitional step into experiencing the world. As a freshly minted high school graduate, doctoral student Leah Bayens instead spent that first year in the woods reading.
"There is something about that experience that forged in me what was already a deep-seated understanding of the importance of those kinds of rural communities, the importance of not developing everything into suburban enclaves," explained the Louisville native. "It was a foundational experience for me because of that. It was also my first real foray into understanding farm culture."
Since that time Bayens has grafted herself into the land, the culture and the nature that surrounds it all. It permeates her graduate research, how she lives her life, and who she is at her core.
She is currently working on her dissertation, which compares farming rhetoric used in current sustainable agriculture literature with a variety of texts published during the nineteenth century; from the early farming press to novels and nonfiction narratives from writers such as Frederick Douglass, Sarah Orne Jewett, and Willa Cather. A number of similar themes have arisen between these bodies of literature that are in some cases separated by two centuries: community, transportation, environmental justice, and advocacy of ecological farming techniques.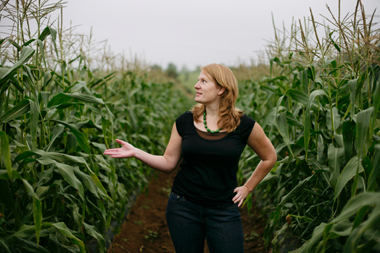 "Productivity was really a key word," said Bayens, describing some of her findings from combing agricultural texts from the time when our nation was seeking to establish a self-sufficient economy to accompany its independence from Britain.
"There is an underlying mentality toward the way the land functions that is prevalent in the rhetoric used to promote industrial agriculture, one that emphasizes extraction, production, and efficiency," Bayens began. "In and of themselves production and efficiency aren't negative concepts, but when those two terms are championed at the expense of ecological health, soil health, and non-human life diversity, that's when they become detrimental. In fact, our very earliest agricultural press writers recognized that, and they began a process of combating that mentality in ways that are really quite similar to what Wendell Berry and Michael Pollan now do."
To stay connected to the community and the land that are so much a part of her and her research, Bayens drives the punishing commute from Junction City to Lexington in her highly fuel efficient car. "There is a big difference between my running partner who is a cattle farmer, and the kinds of challenges that a small family farm faces when trying to meet a specialty market," said Bayens. "There are different challenges and work that they each have to do. This is one of the reasons that I continue to commute to Lexington, because I need to be part of that community so I don't lose sight of it. I can research and research, but it's really important to have those daily interactions with people involved in food production." That experiential element of learning is a component that Bayens brings to the classroom as well.
"Though there is a big difference between working with 3-6 year olds and college students there is an element of hands-on experience that is really important," said the former Montessori teacher.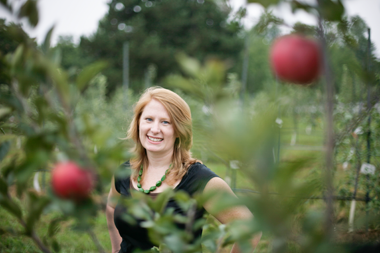 "Particularly when you're talking about things that are nature oriented." In an ecological composition class Bayens taught, a student wrote a short memoir of her food consumption at UK and the ecological costs associated with her food choices, while a number of students did an investigation of UK food sources. "Those kinds of inquiries are really best done through interaction with people who actually handle the food," said Bayens, suggesting how the experiential method of research can be so powerful. Bayens' personal journey has taken her many places she never expected she would go. "I know more about certain things than I ever thought I would, particularly manure," Bayens said laughing. The part of her journey that led her to UK was most directly thanks to the supportive influence of her mentor. "Randall Roorda is our resident eco-critic on the faculty and he has been an incredible mentor," said Bayens. "He knows what my values are, he knows what my ethics are, he knows what my research interests are, he knows how I live my life and he has keyed into all those factors to help guild me thought the entire process of graduate education and now into the dissertation." Despite her full schedule of dissertation writing, teaching, advising students, going to conferences and all the other things that fill a graduate student's plate, Bayens still makes a point to read in the woods. View photo gallery