By Sarah Geegan
A notorious feud between the Hatfields of West Virginia and the McCoys of Kentucky is once again making national news, but this time it is hitting a little closer to home.
A discovery of artifacts associated with patriarch Randall McCoy's home and site of an infamous 1888 attack were confirmed by Kim McBride, a historic archaeologist with the Kentucky Archaeological Survey, a joint partnership with the University of Kentucky Department of Anthropology and the Kentucky Heritage Council/State Historic Preservation Office.
McBride's work is central to the story of the site, and what the artifacts and their context of recovery can contribute to our understanding of the events that transpired, which will be featured on an upcoming episode of the National Geographic television series "Diggers," airing at 10 p.m. EST Tuesday, Jan. 29.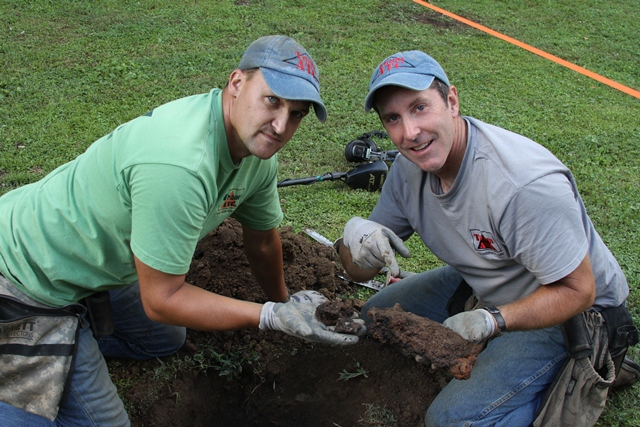 The show follows George "KG" Wyant and Tim "Ringy" Saylor, who through metal detecting and sleuthing attempt to unearth finds of interest to viewers.  In this instance, they worked with the show's staff archaeologist Kate Culpepper and local historian Bill Richardson to explore the location of what was long believed to have been the McCoy home. Here, the family was ambushed as they slept on New Year's Day in 1888. Two family members were shot and killed, Randall's wife was badly beaten and later died, and the home was burned.
In their investigation of the property, which is privately owned, Wyant and Saylor discovered charred wood, bullets and metal fragments. The artifacts were tagged and mapped, and Dr. McBride was asked to verify the find and record the site with the Kentucky Office of State Archaeology.
"This is an incredible discovery behind America's greatest family feud," she said in a recent press release from National Geographic. "After spending two days excavating at the site, we were pleased to find a number of original artifacts from the actual structure, such as window glass and both wrought and machine-cut nails, and we were able to trace the lineage of the property right back to Randall McCoy and his wife, Sarah McCoy. As archaeologists, we are very excited to find real evidence to back theories that have abounded for decades."
According to McBride, the experience was an unlikely pairing of metal detecting enthusiasts with professional archaeologists, but the partnership demonstrated that the two groups can work together to find and properly document artifacts in a scientific manner benefiting both interests. The effort to find material evidence associated with the Randall McCoy homestead was initiated by the "Diggers" team, but the discovery of the artifacts would have had little meaning without the additional systematic investigations and recovery of other artifacts by trained archaeologists who could interpret them within the context of where and how they were found, she said.
McBride said that when the "Diggers" program originally aired, the archaeological community, and professional organizations such as the Society for Historical Archaeology and the Society for American Archaeology, were concerned that guidelines weren't being followed in a way that would allow archaeological resources to be studied for their historical context. These groups were also concerned that too much emphasis was being placed on finding artifacts solely for their monetary value, which might encourage others to destroy or loot historic or prehistoric archaeological sites. Fortunately, she said, discussions between archaeologists and the show's producers resulted in a revamped format she hopes will emphasize responsible stewardship and preservation.
"Bits of items that are typically excavated from archaeological deposits have no intrinsic value in and of themselves," McBride said, "but if they are recovered and studied in place, they have enormous potential for research about events that occurred in the past, and to help us frame them in new ways that may completely change our understanding of what actually transpired."
Interpreting artifacts such as those excavated at the McCoy site also provides an opportunity to shed new light on people and events already entrenched in popular culture, assisting local efforts to expand heritage tourism, she said. Thanks to programs such as the recent History Channel miniseries "Hatfields & McCoys," the infamous feud between the clans – which gripped the nation's attention in the late 19th century – continues to hold our interest today.
State Archaeologist George Crothers concurs that collaborations such as the one portrayed on this episode of "Diggers" are capable of producing remarkable results, and have been done successfully at other sites across the Commonwealth including Blue Licks Battlefield and the Battle of Richmond.
"Metal detecting is a technique that archaeologists also use, especially on historical period sites, to locate buried remains of old structures, and on battlefields to identify troop movements," he said. "The best thing I see coming out of the show is to demonstrate that archaeologists and metal detector enthusiasts can work together for the common good."
Archaeologists don't object to metal detectorists collecting modern items, he said, but state and federal laws govern how and where this may be done on state or publicly owned property. Under the State Antiquities Act, collecting archaeological material on state, county or municipal property requires a permit from the Office of State Archaeology.
"When metal detecting is used to find and loot historical items, our common cultural heritage is destroyed," he said. "But the metal detector community can help by reporting historical sites when they discover them, as they did on the 'Diggers' show, and archaeologists can enlist metal detectorists to help in the study of these historical sites. Doing so, everyone gains."
An agency of the Kentucky Tourism, Arts and Heritage Cabinet, the Kentucky Heritage Council / State Historic Preservation Office is responsible for the identification, protection and preservation of prehistoric resources and historic buildings, sites and cultural resources throughout the Commonwealth, in partnership with other state and federal agencies, local communities and interested citizens. This mission is integral to making communities more livable and has a far-ranging impact on issues as diverse as economic development, jobs creation, affordable housing, tourism, community revitalization, environmental conservation and quality of life.
The mission of the Kentucky Archaeological Survey (KAS) is to provide a service to other state agencies, work with private landowners to protect archaeological sites, and educate the public about Kentucky's rich archaeological heritage. The KAS is jointly administered by the Kentucky Heritage Council/State Historic Preservation Office and Department of Anthropology at the University of Kentucky.