LEXINGTON, Ky. (Nov. 21, 2013) — As the nation stops to remember President John F. Kennedy on the 50th anniversary of his death Friday, Dean of University of Kentucky Libraries Terry Birdwhistell recalls his interview with former First Lady Jacqueline Kennedy Onassis on her husband's relationship with popular Kentucky Senator John Sherman Cooper.
The oral history interview, taken by Birdwhistell on May 13, 1981, at Onassis' home on Fifth Avenue across from Central Park in New York City, was a bit of a dream come true for the oral historian.
"My colleagues thought I was crazy to even write to Ms. Onassis and ask for an interview about her friend, Kentucky Senator John Sherman Cooper. However, I was still young enough (30) to believe almost anything was possible. So I wrote to her in the spring of 1981."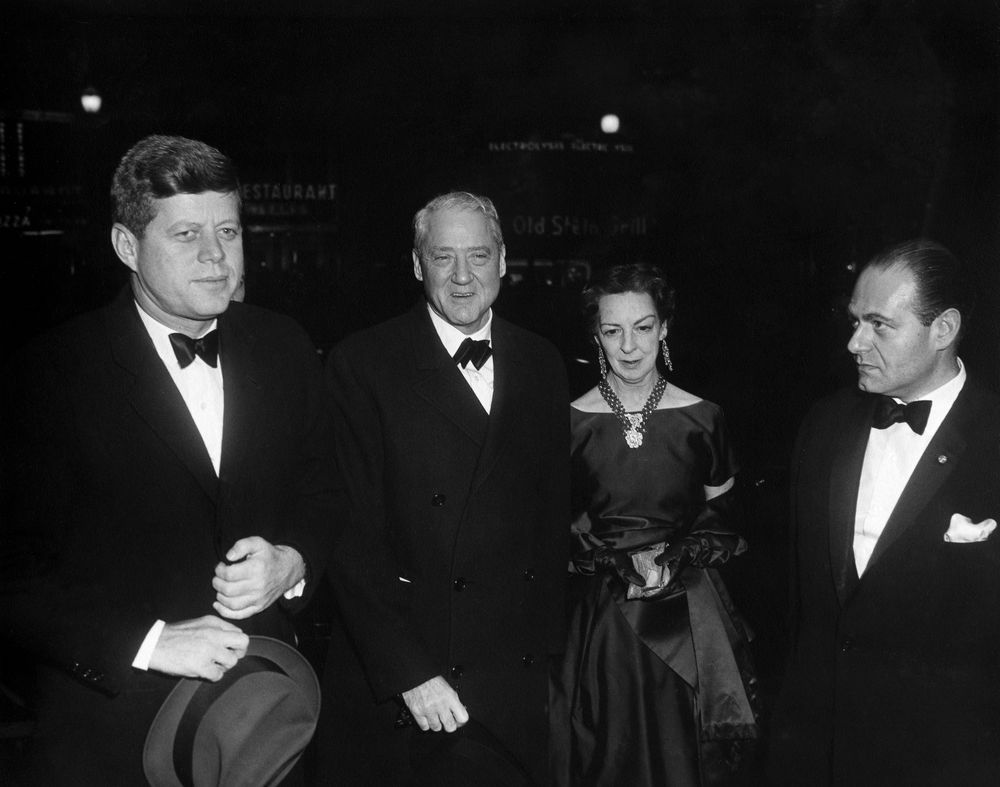 Not long afterward, Birdwhistell received a phone call from her assistant, Nancy Tuckerman, letting him know that Onassis would do the interview.
Beyond agreeing to participate, Birdwhistell found a very willing subject to interview. "She was focused on trying to do a good job with the interview and seemed in no hurry for it to end. She said she envied the person who would write Cooper's biography."
Birdwhistell spent about an hour with Onassis gaining insight into the Kennedys' relationship with Senator Cooper and his wife Loraine, from their friendship outside of the hallowed halls of Congress to the bipartisan work of Kennedy and Cooper.
The couples first got to know each other when Onassis was dating John Kennedy and Senator Cooper was dating Lorraine Rowan Shelvin. They would often double date or find themselves at the same Washington parties. That relationship would remain strong even as Kennedy led the nation.
The closeness of the couples is maybe most evident in the way Onassis casually referred to the Kentucky senator as Judge Cooper, referencing his time as a county judge in Pulaski County.
In describing Senator Cooper for the interview, Onassis described the former judge, senator and ambassador as Jeffersonian and a man of great character. She even compared him to another beloved Kentucky leader, Abraham Lincoln, noting his ability to connect with individuals from small town Kentucky to communities abroad.
"It's a question of character, really. If the man seems to you wise, profound, compassionate, intelligent, learned-well, you're going to look up to him. And then he was also loved. He couldn't help but be loved, if you just spend 15 minutes with him, you're going to like him," said Onassis.
As for their work together in Congress, Onassis didn't find the relationship between her husband and the Kentucky Republican all that odd. While they represented two different parties, the two leaders could easily recognize important topics they could agree on.
"I think that both of them were original enough, or not so narrowly partisan, that they could appreciate the qualities of the other," Onassis said. "Well, you get a lot done in the Senate with bipartisan things."
For listeners, hearing Onassis' nonchalance about the leaders working together may seem foreign in today's political climate.
"The John Sherman Cooper/John Kennedy relationship was very personal and is the type of friendship across party lines that seem to have been lost in today's politics," Birdwhistell said.
Even after Kennedy's death, Cooper was there for his close friend, serving on the Warren Commission that investigated Kennedy's assassination. Although Onassis was very appreciative of Senator Cooper's service on the committee, she recognized what little it could do for her family.
"Somehow I had this feeling of, what did it matter what they found out? They could never bring back the person who was gone. Obviously, I knew it had to be done."
A digitized version of the Onassis interview on Senator Cooper has been made available to the public by the Louie B. Nunn Center for Oral History at UK Libraries. The public can find this entire interview here: http://kentuckyoralhistory.org/interviews/19058.
UK Libraries' Nunn Center for Oral History is internationally recognized for its outstanding collection of more than 9,000 oral history interviews. The number of interviews available online continues to grow, providing greater access to the collection.
Topics are wide-ranging from Appalachia, politics, veterans' stories, as well as documenting important Kentucky industries such as the horse, coal and bourbon industries. To learn more about the Louie B. Nunn Center for Oral History, visit the center online at www.nunncenter.org or http://libraries.uky.edu/nunncenter.