By Sarah Geegan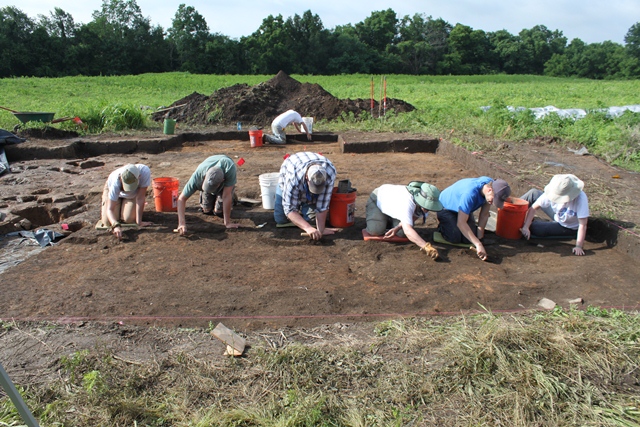 Archaeology — a profession that often inspires visions of treasure-hunters, the likes of Indiana Jones and Benjamin Gates from National Treasure — seems somewhat out of place in Kentucky. However, the Kentucky Archaeological Survey (KAS), administered by the UK Department of Anthropology, has put itself on the map in terms of archaeological relevance and success.
KAS, an organization also administered by the Kentucky Heritage Council, serves to provide educational and research assistance, as well as community outreach.Working with schools, museums, historical societies and communities through its many research projects, KAS strives to educate the public regarding Kentucky's rich archaeological history.
KAS also provides organizations with archaeological expertise and resources. Through workshops and training, experts such as Gwynn Henderson, KAS education coordinator and adjunct professor at UK, travel across the state to provide archaeological services.
"In late February, I went with Dr. George Crothers, the director of the William S. Webb Museum of Anthropology, and Ms. Tressa Brown of the Kentucky Heritage Council, to Mammoth Cave National Park," Henderson said. "We put on a workshop with Mammoth Cave for their interpreters, helping them better understand the archaeology of the cave so they could do an even better job as interpreters for the public."
Other projects include a partnership with the Shelby County Historical Society, assisting with identifying and cataloging artifacts from a recently donated collection and creating a display to showcase the county's history.  
"Our mission centers on education, community outreach and research," Henderson said.
KAS' office and research laboratory is located off UK's campus, on  Export Street, and is one of the Department of Anthropology's four service units. The building also houses the Office of State Archaeology, a library of statewide archaeological site records and survey reports; the William S. Webb Museum of Anthropology with its nationally recognized research collection; and the Program for Archaeological Research, which provides archaeological assistance to federally funded projects.
The facility also offers a plethora of opportunities for both undergraduate and graduate students pursuing archaeology at UK.
"We feel very strongly at KAS that we have a responsibility, because we are an organization that is part of the university, to provide opportunities for hands-on, real-world work and archaeological experience for both graduate students and undergraduates," Henderson said. "We try to compliment students' personal interests in research and experiences, and our facility allows us to provide those opportunities."
Undergraduate students who conduct work in the different service units' labs are exposed to all aspects of archaeology, from participating in field projects to processing and analyzing artifacts and writing reports.
Prior to being hired, these students complete UK's six-credit Archaeology Summer Field School course, a hands-on experience that exposes students to basic techniques of archaeological excavation. These include methods of removing dirt with shovels and brick mason's trowels; taking notes and filling out excavation forms; sifting soil through screens to recover artifacts; creating measured drawings of the archaeological findings; and washing, identifying and cataloging artifacts.
After completing this course, students are able to conduct work in the archaeology lab.
"A couple of undergraduate students also have artistic interests," Henderson said. "So we are having them draw side views of fragments of pottery, and we can use those to illustrate the form of the vessels. This is technical drawing, so the students have to accurately measure each fragment and orient it correctly. It's quite difficult, so they are getting good experience."
The service units also offer students the opportunity to enroll in Department of Anthropology independent studies and internships, and to conduct their own research.
"Working at the archaeology lab on UK's campus has really given me hands on experience in pursuing my career," archaeology student Emily Clark said. "For example, I am currently working on ceramic analysis. I never thought I would be so excited to handle broken pieces of pottery that are more than 500 years old. Being able to put my fingers in the same spots that these people did hundreds of years before me, or finding an imprint of a finger in a piece that I am working with is a very awesome feeling."
Other students have tailored their lab experiences to their interests as well, studying animal bones in one instance, and utilizing geographic information systems (GIS) to create databases for archaeological sites in another.
"I wish, as an undergrad at the University of Delaware, that these kinds of opportunities had been available to me," Henderson said. "Students really have an incredible opportunity to get hands-on experience."
In addition to its partnership with college students,  KAS also partners with a national archaeological education organization devoted to bringing archaeology to primary and secondary school children: Project Archaeology.
A national heritage education program, Project Archaeology was founded by the U.S. Bureau of Land Management (BLM) for educators and students. By creating educational materials and offering professional development opportunities and professional support, the organization instructs teachers on how to use archaeology as a vehicle for studying a host of subjects: social studies, art, math, science, and language arts.
"Students usually find the idea of archaeology interesting in the first place," Henderson said. "And it connects meaningfully to many other areas of study. So it is a good and effective avenue to use for teaching other subjects."
In the fall of 2011, Project Archaeology gained national accolades for its accomplishments. Kentucky's Project Archaeology program received the 2011 Secretary of the Interior's Partnerships in Conservation Award, recognizing " exemplary conservation results with community engagement and local partnerships."
"The Secretary of the Interior's award recognized KAS' long-standing partnership with National Project Archaeology," David Pollack, KAS director and adjunct professor at UK, said. "The award recognized the national program's and KAS' efforts to bring to the classroom 'Investigating Shelter,' a curriculum aiming to teach students about how prehistoric, historic and modern-day civilizations use shelter, or homes. Through its many workshops, KAS has worked with several hundred teachers throughout the Commonwealth."
Using online and hard copy components, including videos of different shelters, interviews with community members and other historical documents, the curriculum uses shelter case studies to teach students about shelter in general.
To enhance the educational value of these materials for Kentucky teachers, KAS decided to develop a case study shelter investigation specific to the Commonwealth.
"The curriculum is linked to national standards, but its developers structured it in such a way that it could be regionalized for each state," Henderson said. "We really wanted to develop shelter investigations that were specifically for Kentucky, because Kentucky teachers really get jazzed to use instructional materials that are Kentucky-centric, Kentucky-focused, Kentucky-made."
These shelter investigations include an early 1900s shot-gun house and a prehistoric farmers' house in Harrison County that may be linked to people of Shawnee origins. Development of both investigations is being funded in part by the Kentucky Transportation Cabinet. Materials from these units will be available for teachers both in Kentucky, and nationally.
Henderson said she was very pleased with the Kentucky-focused material, and it's applications.
"I realized shortly after we started this project, that when the prehistoric shelter investigation is finished, the Shawnee people will be able to use it in their schools," Henderson said. "And I thought how cool would that be, for Shawnee kids to explore their heritage in this way."
The Project Archaeology Investigating Shelter curriculum became available in July 2009 and has already elicited praise from educators and archaeologists alike, including the National Council for the Social Studies.  
Henderson said that her pride in Project Archaeology's winning the award is matched by her pride in the role KAS plays both at the university and throughout Kentucky communities.
"What UK provides for KAS is a place on campus and the opportunities to work in an educational setting," Henderson said. "But then, we also see ourselves contributing to the university's education, research and service mandate. We provide services to the Commonwealth, its communities and to the university itself."
For more information on KAS, click here.