by: Jay Blanton and Whitney Hale
(Jan. 22, 2015) — Former U.S. Senator Wendell H. Ford not only left an indelible mark on the Commonwealth, but on his university — the University of Kentucky.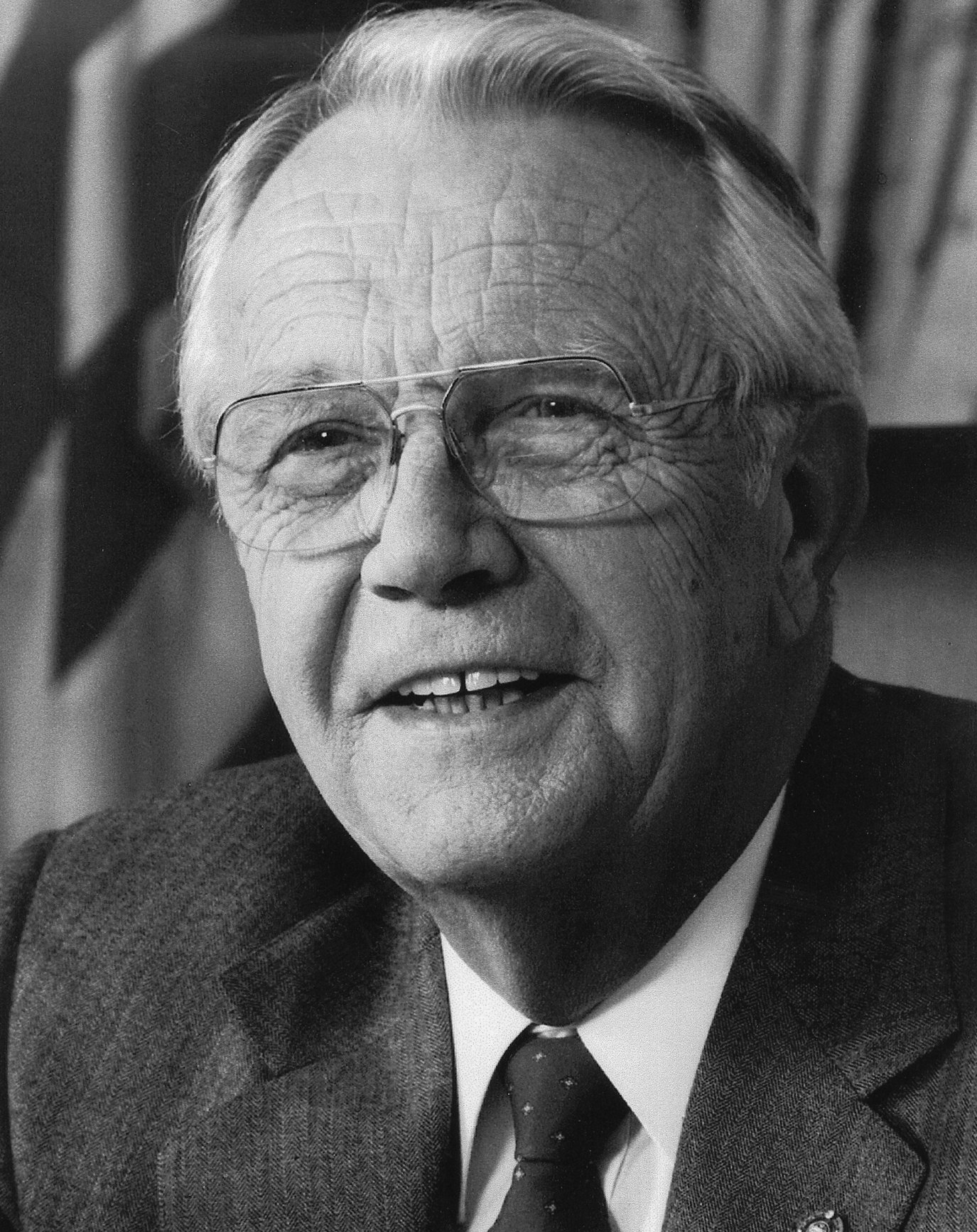 For decades, he was intimately involved with the Martin School for Public Policy and Administration, and a public policy research center in UK Libraries bears his name.
UK Libraries also is home to his correspondence, papers and oral histories that document his long public service career as a legislator, lieutenant governor, governor and senator.
The following are quotes from prominent UK officials and faculty who knew and worked with Ford along with links to his career and involvement with UK:
"If history's chroniclers hope to draw a character sketch of the archetypal Kentuckian, they need look no further than Wendell Hampton Ford. He worked in hallowed halls of power, but his voice was always that of the authentic Kentucky experience — the bone-tired tobacco farmer, the weary but resolute coal miner, the resilient factory worker in south Louisville. They trusted Wendell Ford because he was who they were — hard-working, honest, proud, resilient. A Kentuckian. Senator Ford's love and pride extended to his university, the University of Kentucky. He worked with presidents from Otis Singletary to me, greatly assisting our rise and progress as a nationally prominent research institution and a leader in the development of public policy discussion and discourse. He was rightfully proud of The Martin School for Public Policy and Administration in which he was so involved for decades as well as the public policy center in UK Libraries that bears his name. UK is the proud home of his voluminous correspondence, papers, and oral histories documenting his life and career. That's appropriate since Kentucky was always home to his heart. And we are immeasurably better as a state and people for this Kentuckian's life." — Eli Capilouto, president, University of Kentucky
"Senator Ford understood and appreciated the value of libraries and the importance of assuring that citizens had access to public information.  His efforts to promote civic engagement and citizens' involvement with government will be missed."-Terry Birdwhistell, Dean, University of Kentucky Libraries
"Senator Ford was one of the last of a generation who understood that government could work for people at the local level.  He understood the human dynamics of Kentucky politics as well as anyone, and that experience fundamentally shaped his career in the U.S. Senate.  We take it for granted, for example, that we can register to vote when we get our driver's license, but that seemingly obvious exercise came about because of Sen. Ford's "motor-voter" bill, and it was rooted in his belief in bringing democratic values to people where they work and live."-Tracy Campbell, Professor of History and Co-Director of the Wendell H. Ford Public Policy Research Center   
"The opportunity to work with Senator Wendell Ford was an honor, a pleasure, and an education.  His ability to convey the value of public service was exceptional."  -- Eugenia F. Toma, Wendell H. Ford Professor of Public Policy, Martin School of Public Policy and Administration, University of Kentucky
Ford's relationship to the Martin School included many roles and responsibilities:
member of the Martin School Board of Visitors (the Martin School external advisory board);

first person to be inducted into the Kentucky Public Service Hall of Fame (which is hosted by the Martin School);

involved in raising money for the Wendell Ford Professorship currently held by Eugenia Toma);

served as a Distinguished Fellow at the Martin School after he left the U.S. Senate
--In that role, he met with students and held seminars about federal policy and his role in the Senate in formulating  policy and federal legislation;
--He also mentored students and assisted them in finding internships and assisted them in their career choices and job searches;
--Assisted the Martin School with student recruitment, including visiting Kentucky college campuses, meeting with students and encouraging them to pursue careers in public service, which he valued very much;
The Wendell H. Ford Public Policy Research Center supports research and public and educational programming dealing with issues relating to public policy, politics and Congress. The center provides University of Kentucky faculty, involved in teaching and research in these areas, the opportunity to work closely with the Ford Center on specific or general topics. Exhibits are made available on the UK campus as well as other institutions and agencies throughout Kentucky. In addition, the Ford Center works closely with the UK Libraries' Special Collections Research Center to support digitizing primary source materials pertaining to public policy, politics and Congress and placing them on the Web. The center also supports interns in processing related collections. The Ford Center is a member of the Association of Centers for the Study of Congress. Co-directors of the center are Deirdre Scaggs, UK Libraries associate dean for special collections and Tracy Campbell, professor in the UK Department of History.
UK Libraries is home to the Wendell H. Ford collection, which was closed during his lifetime. They will work with the family to get their thoughts on when the collection will be open for research. At this point the collection remains closed.
University Press of Kentucky published "The Public Papers of Governor Wendell H. Ford, 1971-1974." The publication presents a record of the Ford administration. From among the many public speeches delivered by Ford during the three years he served as Kentucky's governor, W. Landis Jones chose a representative sample that reflects the wide-ranging concerns of the Ford administration. Arranged topically, the volume covers subjects from government reorganization and party politics to health and welfare, education, highways, and energy and environment. This publication was digitized as a part of the press and UK Libraries' backlist digitization project.
Among the UK Libraries online Explore UK archives are several speeches and photos of Ford.  Links are below.
Wendell H Ford Speeches (1971-75): http://exploreuk.uky.edu/catalog/xt70k649pc8p/guide
Audio interview with Wendell Ford as part of Community Colleges of Kentucky Oral History Project: http://exploreuk.uky.edu/catalog/xt747d2q5m27
Photo of Ford at the dedication of UK Medical Center:http://exploreuk.uky.edu/catalog/xt75736m0s6q_120_34
Governor Ford signing legislation in 1971: http://exploreuk.uky.edu/catalog/xt73j960633j_53_39
Photo of Kentucky Governors, 1979: http://exploreuk.uky.edu/catalog/xt75736m0s6q_395_4
President Singletary with Gov. Wendell Ford at the dedication of Jefferson Community College of Learning Resources Center, 1974: http://exploreuk.uky.edu/catalog/xt75736m0s6q_412_63
Headshot of Ford, 1970: http://exploreuk.uky.edu/catalog/xt73j960633j_4_221
Headshot of Ford, 1992: http://exploreuk.uky.edu/catalog/xt73j960633j_4_222