by Whitney Hale & Tess Perica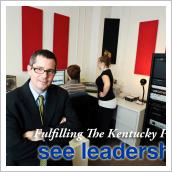 Information in this day and age is rarely scarce, but often not collected and saved properly for future generations. However, one national project under the leadership of oral historian Doug Boyd, director of the Louie B. Nunn Center for Oral History at University of Kentucky Libraries, hopes to remedy that through the dissemination of best practices via the Oral History in the Digital Age (OHDA).
Funded by the Institute of Museum and Library Services (IMLS) and hosted online by Matrix at Michigan State University (MSU), OHDA currently contains around 70 essays by experts and leading practitioners around the country on best practices for collecting, curating and disseminating oral history; the "Thinking Big" video series; and links to nearly 200 best practices documents online.
Boyd managed and co-edits the OHDA project, as well as provides answers for the "Ask Doug" website series, which is based on a set of questions that takes viewers through a series of decisions on selecting the best possible digital equipment for their project's particular needs.
The "Thinking Big" video series is a compilation of videos that captures several leading voices on digital oral history and digital media.
Boyd was hired to work with OHDA due to the acclaim the Nunn Center has received as a national leader in oral history and digital technology. In addition to his management and editing work, he authored 18 of the site's essays. The site also features two more essays by Sara Abdmishani Price, coordinator of the Nunn Center Collection.
In addition to Boyd, several MSU faculty members helped develop and edit the project. These faculty members include: Research Professor Steve Cohen, Director of Arts and Cultural Initiatives Kurt Dewhurst, Communicative Sciences and Disorders Professor Brad Rakerd and Director of Matrix Dean Rehberger.
Rehberger, who also serves as an associate professor in the Department of Writing, Rhetoric and American Cultures at MSU, has been instrumental in the project. He hopes to see the project develop in the future as a set of best practices for oral histories in video form. This goal is still evolving with the project.
Boyd is a national leader regarding oral history, archives and digital technologies. Most recently, he is leading the research team that envisioned, designed and implemented the open source OHMS (Oral History Metadata Synchronizer) system.  The OHMS tool connects a user from a search term in a transcript or an index to the corresponding moment in the online audio or video.
Previously, Boyd administered digital programs for the University of Alabama Libraries, served as the director of the Kentucky Oral History Commission, and prior to that worked as the senior archivist for the oral history collection at the Kentucky Historical Society.                                                                                 
The OHDA project was funded by a wide range of entities including, IMLS at MSU Digital Humanities Center, American Folklife Center at the Library of Congress, Smithsonian Center for Folklife and Cultural Heritage, American Folklore Society, the  Nunn Center, UK Libraries and the Oral History Association.
For more information on the Oral History in the Digital Age project, contact Doug Boyd by email atDoug.Boyd@uky.edu or visit the project's website at www.ohda.matrix.msu.edu.
UK Libraries' Louie B. Nunn Center for Oral History is internationally recognized for its outstanding collection of more than 8,000 oral history interviews. Topics are wide-ranging from Appalachia, politics, veterans' stories, as well as documenting important Kentucky industries such as the horse, coal and bourbon industries. To learn more about the Louie B. Nunn Center for Oral History, visit the center online at www.nunncenter.org or www.uky.edu/libraries/nunncenter.