Video by UK Public Relations and Marketing. To view captions for this video, push play and click on the CC icon in the bottom right hand corner of the screen.
by Jenny Wells, Whitney Harder
(Feb. 27, 2014) — Twenty-four undergraduate researchers from the University of Kentucky, along with more than 200 other student representatives from across the state, are taking over the state capitol in Frankfort today to showcase their research to the state legislature.
Posters-at-the-Capitol is a one-day annual event held to educate the Kentucky state legislators of the importance of undergraduate research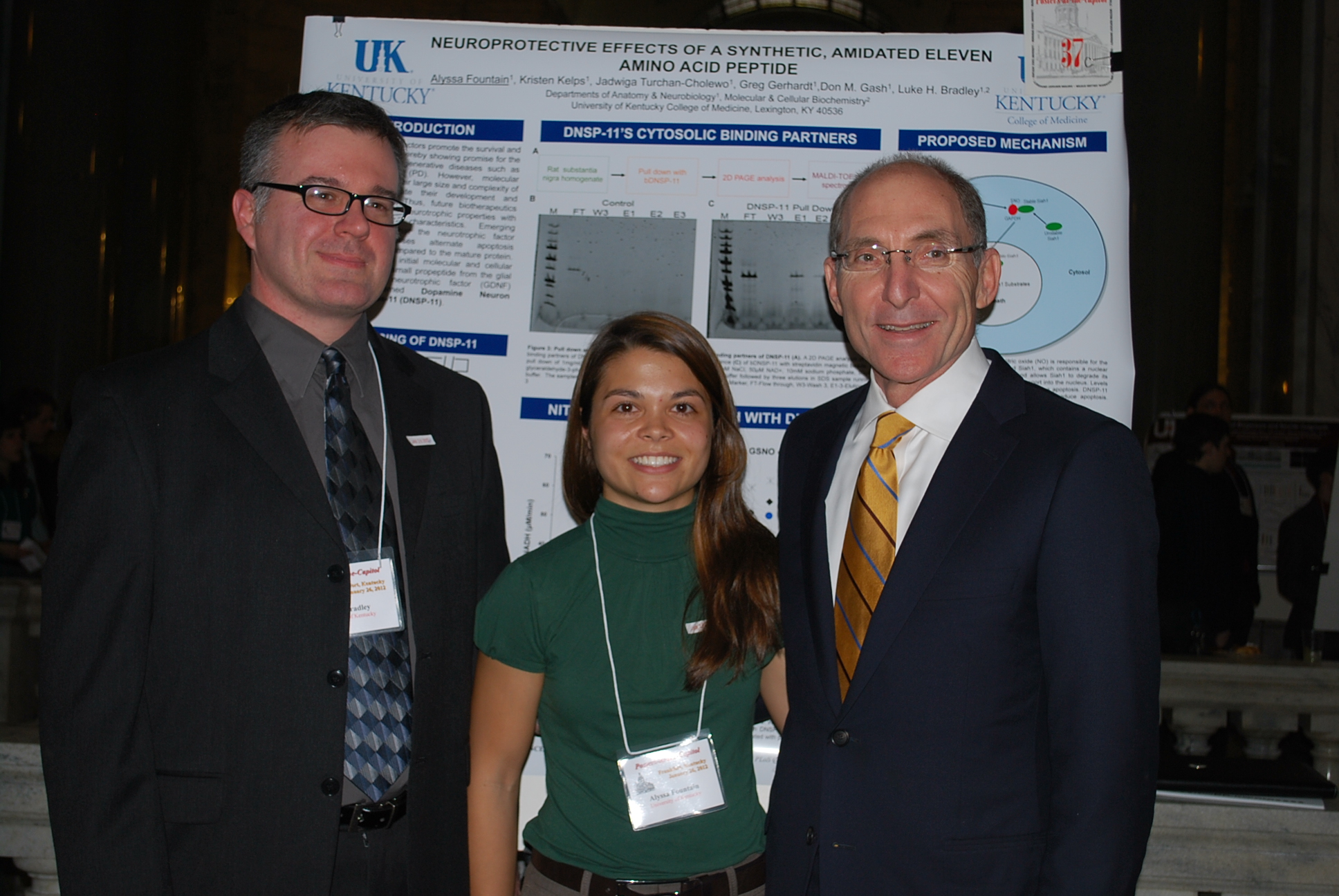 and scholarly work. The governor, members of the General Assembly and representatives from students' hometowns are able to engage directly with the scholars on this day.
"The University of Kentucky is deeply committed to a culture of undergraduate research because of the profound impact it has on learning and the inherent value it brings to the Commonwealth of Kentucky," said UK President Eli Capilouto. "By engaging in innovative research activities and inspiring a generation of thinkers, pioneers and inventors, we position ourselves to address our state's most intractable problems and create a better future for all Kentuckians."
The event is a collaborative program where students from each of Kentucky's eight public universities and the Kentucky Community and Technical College System present the results of research they have conducted as part of their college experience before the state legislature.
Many different undergraduate disciplinary areas are presented at the event, not only those within the sciences.
The UK students who will participate in Posters-at-the-Capitol this year include:
Anthony Carney: "Food Cost May Be An Incentive to Healthy Eating in Kentucky Counties." Mentors: Frances Hardin-Fanning and Yevgeniya Gokun         
Madeline Marie Doran: "Goal Comprehension Mediates the Relation Between ADHD and Social Functioning Deficits." Mentors: Richard Milich and Elizabeth Lorch
Tyler J. Flynn: " Magnetic and Electrostatic Hybrid Microstructures for Microfluidic and Microrobotic Applications." Mentors: Christine Trinkle & L. S. Stephens
Mary Allison Francis: "Impact of Prenatal Psychosocial Wellness on Risk for NICU Admission." Mentor: Kristen Ashford     
  
Melissa Homann: "Triggering Receptor Expressed by Myeloid Cells-2 (TREM2) spicing forms effects on function of gene and relationship with Alzheimer disease." Mentor: Steven Estus          
Corinna Hughes: "Exploring Racial Differences in Biomarkers, Stress and Anxiety Throughout Pregnancy." Mentors: Kristen Ashford, Andrea K McCubbin, Janine Barnett and Susan Westneat     
Summer Knox, Christopher Auvenshine, Stephanie Mays, British Thompson, Jacob Case, Tommy Mudd, and Jimmy Williams: "Exploring Racial Differences in Biomarkers, Stress and Anxiety Throughout Pregnancy." Mentors: Steven Arthur and Andrea Friedrich   
Karyn Loughrin: "Sustainable Land Use around Nyungwe National Forest Reserve." Mentor: Andrew Stainback     
Casey L. Magyarics: "Impact of Number and Type of Stalking Behavior on Perceptions in the Courtroom." Mentor: Jonathan Golding   
Holly Poore: "Emotional Understanding as a Mediator of ADHD and Negative Social Outcomes." Mentors: Richard Milich and Elizabeth Lorch   
Helen Sauer: "Overview of Community and Economic Development Programming in Southern Land-Grant Universities." Mentor: Alison Davis          
Rebecca Schwager: "Parasite Prevalence in Kentucky Elk as Determined Through Abomasal Parasites and Fecal Egg Counts." Mentor: John Cox      
Nazeer Shaikh:"In Vitro Starch Catabolism, a Novel, Environmentally Safe Means of Starch Processing." Mentor: Matthew Gentry     
Christina Thompson: "Examining the Impact of Anxiety and Prenatal BMI on Preterm Birth." Mentor: Kristin Ashford        
Heidi Vollrath: "The relationship between brain size and muscle mass among primates." Mentor: Magdalena Muchlinski      
Rebecca L. Wente: "Interactions Between Green Lacewings and Ladybeetles Their Potential for Biological Control of Aphids." Mentors:  Katelyn A. Kowles, Jason M. Schmidt and James D. Harwood    
      
Danielle Wingerter and Jessica Gambrel: "Application of Phage Display Technology to Establish Binding Partners to the Autophagy Protein ATG8 from Evolutionarily Diverse Organisms." Mentors: Anthony Sinai, Luke Bradley and Animesh Dhara 
The UK Office of Undergraduate Research is part of the Academy of Undergraduate Excellence within the Division of Undergraduate Education at UK.