by Erin Holaday Ziegler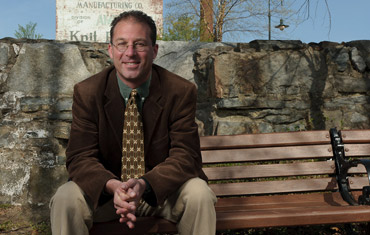 Chad Montrie, professor in the Department of History at the University of Massachusetts-Lowell, will be visiting the University of Kentucky to discuss the history of environmentalism and its connection to the modern-day struggle against mountaintop removal (MTR) on Oct. 20.
His talk, titled, "Confronting Environmental Mythology, Making a New Environmental Movement," will take place at 3:30 p.m. on Oct. 20 in the Niles Gallery of the Lucille Caudill Little Fine Arts Library.
Montrie will examine common notions about the origins and development of environmentalism in the United States, highlighting militant opposition to strip mining in Appalachia during the 1950s and 1960s as a precursor to contemporary efforts to end (MTR).
Montrie suggests that acknowledging underground miners' critical involvement in that preceding campaign, as well as exploring the erosion of mineworker participation over time, allows us to better understand and address current divisions within the modern-day struggle against MTR.

"Dr. Montrie has made significant contributions to the fields of Environmental History as well as Appalachian Studies, producing socially relevant scholarship that is accessible to academics and activists alike," said Amanda Fickey, UK Graduate Appalachian Research Community Member and PhD Candidate in the Department of Geography.

Montrie's forthcoming book, "A People's History of Environmentalism in the United States," will be available winter 2011. Previous works include: "To Save the Land and People: A History of Opposition to Surface Coal Mining in Appalachia" (2003) and "Making a Living: Work and Environment in the United States" (2008).
In addition to the more formal talk, graduate students are welcome to attend an informal lunch with Montrie, preceding the talk, at the UK Appalachian Center. Lunch is scheduled for 12 p.m. and will limited to 15 graduate students.
To RSVP for the lunch, please contact Fickey at amanda.fickey@uky.edu.

Montrie's talk has been organized by the UK Graduate Appalachian Research Community with support from the UK Department of History, the UK Political Ecology Working Group and the UK Appalachian Center.

For more information, please contact Fickey or Lisa Conley, Graduate Research Assistant, UK Appalachian Center, at lisa.conley@uky.edu.