By Gail Bennett, Sarah Geegan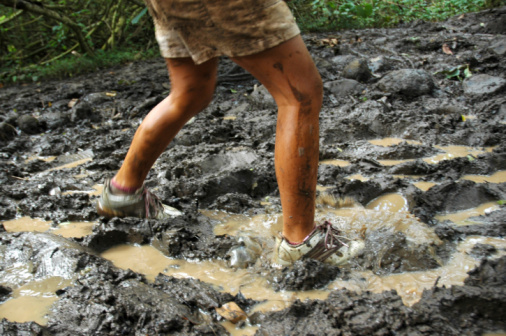 WUKY 91.3 FM, the University of Kentucky's NPR station, is partnering with UK Army ROTC to present the Inaugural Kentucky National Guard Bluegrass Mud Run Saturday, Sept. 22, 2012. This 5K run will begin at UK's Commonwealth Stadium and proceed through obstacles designed by members of UK Army ROTC. The obstacle course will be challenging yet fun and will be made to get runners muddy. 
"This fun and exciting mud run is for the pro-athlete or the pro-couch potato!" said Gail Bennett, marketing director at WUKY." Everyone is encouraged to participate, and we strongly encourage you to have fun and even dress in your favorite or most bizarre costume!"
The mud run event, intended to promote a physically fit lifestyle while also having fun, will involve teams tackling the course. The 5K course will combine running and managing a number of obstacles such as wall mounts, mud pits, ramps, stairs and other military style obstacles. The terrain will vary from pavement, grass, dirt, trail and steps.  The course will be challenging, but it will not require technical running experience.
"The course will be a series of challenging, military-style obstacles the participants must climb over, crawl under, balance on, hang from, and jump to," Lt. Col. Jason Cummins with UK Army ROTC said." The obstacles replicate the kind of tactical movement used in military operations, as well as for physical training, building teamwork and evaluating problem solving skills.  It will undoubtedly test the mettle of your team."
Teams of a maximum of five participants are encouraged. Registration is open at www.bluegrassmudrun.com. The registration fee is $55 per person, and students and uniformed service members will be given a $5 discount on registration with identification. Participants must be at least 14 years old.
Also visit the Kentucky National Guard Bluegrass Mud Run on Facebook a twww.facebook.com/bluegrassmudrun  and follow on twitter @bluegrassmudrun for more information.   
Bennett said this fundraising event will help WUKY and UK Army ROTC continue the important work that both organizations bring to the Commonwealth. 
"WUKY and UK Army ROTC would also like to thank our title sponsor, the National Guard for its generous help and support of this first of its kind event in Lexington," Bennett said. To find out more information on the National Guard, visit www.nationalguard.com or www.dma.ky.gov/ng.
WUKY 91.3FM enlightens, inspires, and entertains its audience through the creation and presentation of the highest quality noncommercial radio programming. Through comprehensive, unbiased news coverage, unique musical offerings and community partnerships, WUKY fosters civic development, celebrates cultural diversity and advances the mission of the University of Kentucky.
UK Army ROTC is a premier leader-development program that produces trained, adaptable leaders of character with a passion for service to the nation.
For more information, contact Gail Bennett at (859) 257-7049 or wukgail@uky.edu.