LEXINGTON, Ky. (Nov. 14, 2013) — Americana, old-time music, the banjo and vivid stories take the spotlight at the University of Kentucky for the next two performances in the "Appalachia in the Bluegrass" concert series. On Friday, Nov. 15, Skipjack, an Americana and old-time band with Celtic roots, will perform. The next Friday, Nov. 22, Chicago-native Stephen Wade, known for his work with the banjo and his recent book, "The Beautiful Music All Around Us," will appear. Both free public concerts will take place at noon at the Niles Gallery, located in the Lucille C. Little Fine Arts Library and Learning Center.
From Celtic to Americana Old-Time Music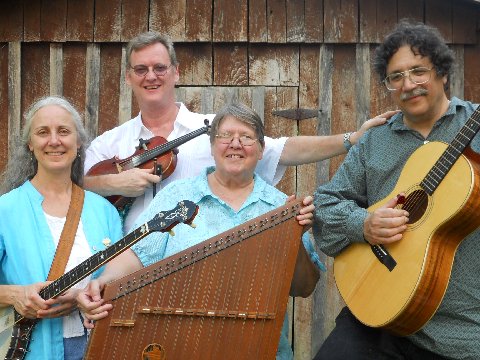 Skipjack rose out of the ashes of the Celtic band, Ten Penny Bit. The band's new direction is more vocally oriented, featuring Americana and old-time music. Their three- and four-part harmonies and acoustic instruments create a distinctive sound with both traditional and contemporary material. Skipjack recently played for the Great American Dulcimer Convention and the Frazier History Museum Timeline Ball, as well as Civil War re-enactment balls throughout Kentucky, Indiana and Ohio.
All members of Skipjack sing, with Todd Morgan rounding out their sound on fiddle; Robin Loeffler on hammered dulcimer; Deborah Thompson on banjo, guitar and lap dulcimer; and Aviv Naamani on guitars, mandolin and bouzouki.
Skipjack just released their second album, "Curtains of Night," in September 2013.
Award-winning Showman/Musician Stephen Wade Performs
Stephen Wade performs "Old Joe Clark" at WAMU's Bluegrass Country. 
Growing up in Chicago in the 1950s and 1960s, Stephen Wade was exposed to a number of vernacular musicians who had moved north to the city from the Mississippi Delta and the Southern Appalachians. In 1972, he began studying with Fleming Brown at Chicago's Old Town School of Folk Music. Wade also began an association with Brown's teacher, old-time, Kentucky-born radio singer Doc Hopkins. Under the tutelage of these two mentors, Wade immersed himself in the banjo, traditional music and American folklore.
By the late 1970s, he had developed a theatrical performance combining storytelling, traditional music and percussive dance in "Banjo Dancing." The show opened in Chicago in May 1979 where it ran for 13 months, including a Labor Day performance at the White House. In January 1981, Wade brought "Banjo Dancing" to Arena Stage in Washington, D.C. Although he was initially booked for three weeks, his engagement there ran 10 years.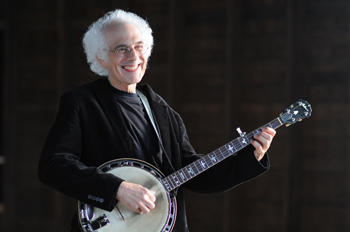 "On the Way Home," Wade's second critically acclaimed theatre show opened in 1989 in Washington, D.C. In the early 1990s, he took both shows on the road. In 1993, Wade received the Joseph Jefferson award for his Chicago run of "On the Way Home." A five-time Helen Hayes award nominee, Wade received the Helen Hayes/Charles MacArthur award as composer, adaptor and musical director for the world premiere of Zora Neale Hurston's "Polk County" in 2003.
In September 2012, Wade released "Banjo Diary: Lessons from Tradition" on Smithsonian Folkways. The album explores musical knowledge passed across the generations. Wade, accompanied by Mike Craver, Russ Hooper, Danny Knicely, James Leva and Zan McLeod, calls upon various instruments and styles to mine new creative possibilities that tradition affords everyone. The album was nominated in the Best Album Notes category for the 55th Annual Grammy Awards.
During his visit, Wade will also talk at a graduate colloquium at 3:30 p.m. Friday, Nov. 22, in the Niles Gallery.
The "Appalachia in the Bluegrass" concert series celebrates the old-time roots of American folk music by featuring a diverse range of traditional musical expression. The concert series will showcase 13 different artists, duos and groups from southern Appalachia ranging from artists straight off their front porch to those who have earned international acclaim. The concert series is generously presented by the John Jacob Niles Center for American Music, a collaborative research and performance center maintained by the UK College of Fine Arts, UK School of Music and UK Libraries.
For more information on the "Appalachia in the Bluegrass" concert series or the concerts featuring Skipjack or Stephen Wade, contact Ron Pen, director of the Niles Center, by email toRon.Pen@uky.edu or visit the website at http://finearts.uky.edu/music/niles.