By Sarah Geegan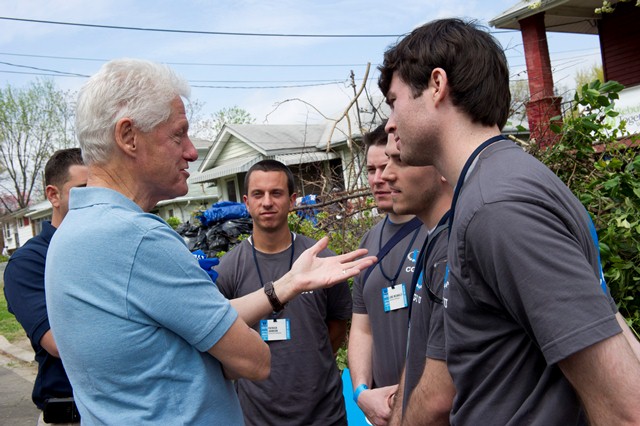 What began as a brainstorm for some kind of community service project became very real for seven University of Kentucky students and for the people of Owsley County, Ky. These seven students established a project redefining community service — empowering the entire county just 87 miles from Lexington to bolster itself against the debilitating factors affecting Eastern Kentucky.
In November, the James W. Stuckert Career Center assembled a UK team to participate in the Clinton Global Initiative University, a program through which university students propose solutions to the world's humanitarian problems. While each of the students came from different backgrounds, from the College of Arts and Sciences to the College of Agriculture, they unanimously decided to focus upon a community within the Commonwealth.
"We wanted, from the beginning, to focus on Appalachia because often times these projects tend to focus on third-world countries," Ben Smith, a graduate student in the UK Department of Philosophy, said. "Living in Kentucky, we actually have what is statistically a third-world country in the state with us, in terms of your basic indicators of quality of life and standards of living in the area."
Smith said that the group based its research on three principle standards for quality of life: education, affluence levels and health levels; they aimed to attack all three. By December, the group determined its target community.
Owsley County, a community of approximately 5,000, is classified as a "food desert" — an area within an industrialized nation, which lacks readily accessible, nutritious food. With 41.5 percent of Owsley County citizens living below the poverty line and a median household income of $11,750, according to the Appalachian Regional Commission, the group focused on developing a systemic, long-term approach specifically tailored to the county's dynamics and of which the community could take ownership.
"We knew the one thing that would kill this project would be if we put our time and effort into something that they weren't interested in," senior linguistics major Luke McAnally said. "We wanted to make sure before we took any steps further that this was something that was needed and something that people wanted."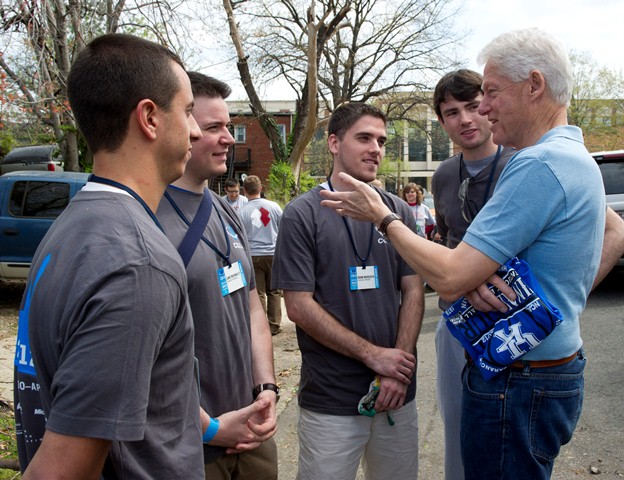 After meeting with the Owsley County board of education, local high school teachers and nonprofits such as Eastern Kentucky PRIDE and Grow Appalachia every other week for three months, as well as consulting with faculty in the UK Appalachian Center, the initiative "Homegrown Kentucky" was born.
The group established a small-scale farm, revitalizing 10 acres of land owned by the school district. By connecting and networking with various community organizations, they received donated farm equipment and other means to restore the previously unused land.
"In working with the UK Robinson Center as well as the county agriculture board, we were able to use all of the most up-to-date agricultural methods to prepare the land," McAnally said."
The farm will benefit the county in multiple ways. Most directly,1.5 acres will yield enough produce to sustain the entire school district, allowing it to provide students with healthier meals and to reallocate funds to educational needs.
The project also aims to ameliorate the county's low high school graduation rates, which in 2000 stood at 49.2 percent.
"One of the things we found out is that the kids obviously aren't less intelligent than any other student, but they tend to learn much more readily when it's from an experiential or tangible point of view," Smith said. "So they are going to have a lot of educational components tied into this project. Every grade, third to 12th, will have a plot of ground that's assigned to them, and they will be in charge of that. Their health classes, economic classes and what-not will be tied into that."
Community members will also have access to community plots along with all of the materials they will need to grow their own food.
"Along with that, we are working with the local farmers' market and Kentucky Proud to get them licensed to sell their vegetables and fruits and the local farmers' market," McAnally said. "We still don't know any real numbers on that, but we're hoping to bolster the local farmers' market considerably."
Team member Patrick Johnson, a senior Natural Resources and Environmental Sciences major, said that the key to the project was involving the community in the discussions and allowing the community members to shape Homegrown Kentucky to the county's dynamics.
"This is really a community project," Johnson said. " It was much less us putting a project together, as them embracing it and putting it into play; it's really theirs. I think it is important to realize that, despite the area's poverty, the people there are very happy because they have been able to maintain a lot of deep cultural values. So we are just trying to help them be healthier human beings and strengthen the economy a little bit. It's not about us going in and 'saving them.'"
The group managed to fund the project through independent fundraising, a grant from the Student Sustainability Council and a service grant from UK Student Government.
"Associate Provost Phil Greasley was really the biggest factor I had on campus," Smith said. "He reimbursed us for our travel expenses as well." 
In March, the team presented their project at the national Clinton Global Initiative conference in Washington DC, where they were personally acknowledged by former President Bill Clinton for their work in the area.
"Having our project personally acknowledged by President Clinton was definitely a huge honor," McAnally said. "It gave us affirmation that what we were doing was not only important to people here, but important to people that are trying to attack world needs."
As many of the group members recently graduated, they established Homegrown Kentucky as a student organization, in hopes that other UK students will continue to focus upon empowering communities in Appalachia.
Johnson said he hopes the organization will maintain the relationships and connections that the group established in Owsley County.
"In the end, we want to thank the people there," Johnson said. "It's not about us, or Clinton or anyone except the people there, and empowering them to become people that don't have to rely on industry. They can produce food for themselves and have a healthier lifestyle."
For more information on Homegrown Kentucky, click here.
To watch a video further describing Homegrown Kentucky, click here.
To listen to a podcast, produced by the College of Arts and Sciences, in which group members Adam Meredith and Luke McAnally discuss the project, click here.