UPCOMING BENEFIT - NOVEMBER 27th, 2022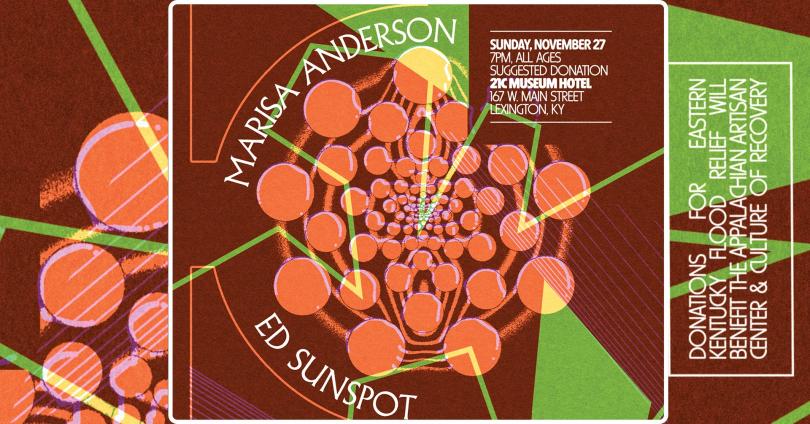 Marisa Anderson w. Ed Sunspot
Benefitting the Appalachian Artisan Center for Eastern Kentucky Flood Relief
Marisa Anderson channels the history of the guitar and stretches the boundaries of tradition. Her deeply original work applies elements of minimalism, electronic music, drone and 20th century classical music to compositions based on blues, jazz, gospel and country music, re-imagining the landscape of American music. The New Yorker calls Anderson "one of the most distinctive guitar players of her generation," while NPR refers to her as among 'this era's most powerful players."
https://www.marisaandersonmusic.com/home
Ed Sunspot is one of the many monikers of Lexington's Robert Beatty. Known for his musical work with Hair Police & Three Legged Race as well as one of America's most innovative and in-demand graphic artists, Beatty's electronic compositions explode both the ear and the imagination.
Donations benefit the Appalachian Artisan Center in Hindman, Kentucky, which encompasses the Troublesome Creek Stringed Instrument Co and Culture of Recovery. Addressing the rise of substance abuse disorders, the Culture of Recovery (COR) Project at the Appalachian Artisan Center partners with the residential Hickory Hill Recovery Center and the Knott County Drug Court to forge a path forward for those in recovery through creativity, supplementing existing treatments with opportunities for skill building in the arts.
https://www.artisancenter.net/culture-of-recovery
https://troublesomecreekguitars.com/
All Ages. Free Admission. Donations greatly appreciated.
LEGAL HELP (11-15-2022)
AppalReD Legal Aid is offering FREE Legal help for Flood Survivors - call 1-844-478-0099, M-F 8:00AM - 4:30PM
For help with FEMA Appeals, Unemployment Insurance, SNAP Benefits, Medicaid/Medicare, Replacement IDs and Birth Certificates, Replacement EBT/Direct Express/WIC Cards, Insurance Denials, Scams and fraud, Housing (Homeowners and renters), other resources
RENTAL ASSISTANCE (UPDATED 9-14-2022)
PRESTONSBURG, Ky. (AP/WYMT) - The Federal Emergency Management Agency officials say continued rental assistance may be available for people in 12 eastern Kentucky counties who were affected by flooding in July. The counties are Breathitt, Clay, Floyd, Knott, Leslie, Letcher, Magoffin, Martin, Owsley, Perry, Pike and Whitley.
To be eligible, residents must have been awarded initial rental assistance and must have used it as intended. The initial award covered two months. To request an application, contact FEMA at (800) 621-3362.
Homeowners and renters who haven't applied for disaster assistance can apply online at disasterassistance.gov, call FEMA or use the FEMA mobile app.
UPCOMING BENEFIT
A special one-night-only benefit concert featuring some of Eastern Kentucky's biggest names in music, will be held at Lexington's Rupp Arena on October 11.
Organized in response to the devastating flooding in the area earlier this summer, the event will feature performances by Chris Stapleton, Dwight Yoakam and Tyler Childers.
VOLUNTEER OPPORTUNITY - UK APPALACHIAN CENTER: SEPTEMBER 17th, 2022
Join us for a flood relief service trip to Perry County, Kentucky in partnership with the Housing Development Alliance. The trip will involve mucking & gutting homes so that the homeowners have a cleaner slate to start again. This means: removing mud/debris from homes and crawl spaces, removing damaged materials (insulation, drywall, floor coverings, etc…). Homes will then be treated with fungicide to ensure that the home and it's occupants will not have to deal with unnecessary moisture and mold in the long-term.
Participants should meet at the Appalachian Center at 624 Maxwelton Ct. at 7:15am on Saturday, September 17th. Volunteers should plan for to be gone for the majroity of the day returning around 7pm. For more information see: https://appalachiancenter.as.uky.edu/flood-relief-service-trip-0
UPCOMING BENEFIT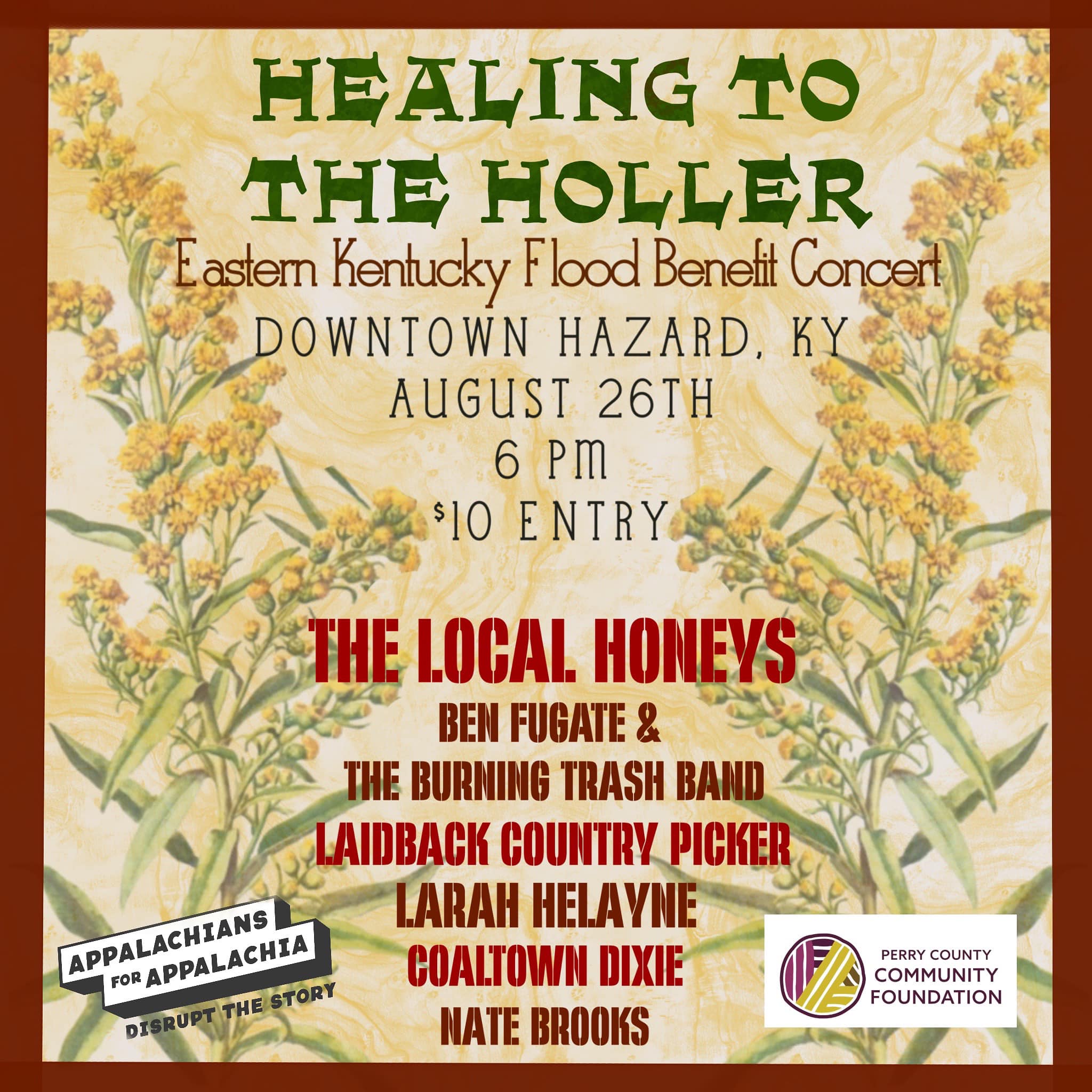 LEXINGTON SUPPLY DROP-OFF LOCATION - (UPDATED 8/25/2022)
Appalachian Regional Healthcare Foundation Flood Relief Fund: ARH is taking monetary donations online. If you'd like to donate cleaning supplies, non-perishable food items or water, they're being accepted at omar + elsie, REACH fitness, Morton James, Norwalk Furniture & Design or the ARH Lexington office at 2260 Executive Dr. ARH says they're in the most need of Enfamil baby formula, first aid kits, bug spray and industrial cleaning supplies.
You can also continue to drop donations of essential supplies off at the UK Appalachian Center, 624 Maxwelton Ct.
UPCOMING BENEFITS
DONATION LOCATIONS (UPDATED 8/25/2022) Most locations are currently seeking WATER & CLEANING SUPPLIES
​Breathitt County
Tire and Retread – 260 Highway 30, Jackson KY 41339
Open 24 Hours
Clay County
Clay County Fire Department – 80 Orchard Street, Oneida KY 40972
Open 24 Hours 
Floyd County
Floyd County Community Center – 7199 KY-80, Langley KY 41645
Open 24 Hours
Johnson County
Paintsville City Garage – 661 3rd Street, Paintsville KY 41240
Monday–Friday, 8 a.m. – 1 p.m.
Knott County
Knott County Sports Plex – 450 Kenny Champion Loop #8765, Leburn KY 41831
Open 24 hours
Leslie County
Dispatch Center – 24770 Highway 421, Hyden KY 41749
Open 24 Hours
Flood Plain Management – 24770 Highway 421, Hyden KY 41749
Open 24 Hours
Letcher County
Letcher County High School – 435 Cougar Drive, Whitesburg, KY 41858
Open 24 Hours​
Magoffin County
Food Pantry – 5083 Middle Fork, Salyersville KY 41465
Open 24 Hours​
Martin County
Martin County Courthouse – 42 East Main Street, Inez KY 41224
Open 24 Hours
Owsley County
140 Country Barn Road, Boonsville KY 41314
9 a.m. – 9 p.m.
Perry County
County Line Community Church – 12639 KY 15, Chavies KY 41727
East Perry Elementary School – 301 Perry Circle Road, Hazard KY 41701
Hazard Flea Market – 368 Dawahare Drive, Hazard 41701
Perry County Garage – 2715 Christopher Road, Hazard KY 41701
Summit Community Church – 147 Century Circle, Hazard KY 41701
Pike County
Appalachian Wireless Arena – 126 Main Street, Pikeville KY 41501
10 a.m. – 6 p.m.
Wolfe County
Campton Elementary – 166 HWY 2491, Campton KY 41301
Open 24 Hours
VOLUNTEER OPPORTUNITY (UPDATED 8/23/2022)
The Appalachian Center is putting together a flood relief service trip for this Saturday, August 27th to help clean out houses in Perry County in conjunction with the Housing Development Alliance. The event will last approximately 7 am to 7 pm and transportation will be provided by the Appalachian Center.
If you would like to join the trip please fill out this google form to register 
https://forms.gle/JLG7vPc6vTHrQBq6A as soon as possible. Please register by this Thursday, August 25th at 5pm. Additional information and a waiver form will be emailed after you have registered.
We are also likely planning trips for Sept 17 and Oct 29 so please keep those dates in mind.
VOLUNTEER OPPORTUNITIES (UPDATED 8/10/2022)
The Appalachian Center is working to organize some volunteer trips in the coming weeks and months, if you are interested in joining please submit the form below. By providing your contact information you'll be added to our list and will get updates about specific volunteer trips and opportunities.
https://forms.gle/vejd6FuQZugqRa1m7
There are also plenty of individual opportunities to volunteer your time and talents to on-going recovery efforts… We've included links to Appalshop and information for Hindman Settlement School. If you have other opportunities you'd like to share, please send them to j.perry@uky.edu to have them added to our resource page and future communications.
UPDATE 8/3/2022
We're hearing from community organizers that monetary donations to smaller funds and organizations are greatly needed.
Appalachian Citizens' Law Center
Cowan Community Action Group
Hindman Settlement School
Foundation for Appalachian Kentucky
UKFCU has teamed up with the American Red Cross Bluegrass Chapter to help those struggling with the devastating effects of the recent flooding in Eastern Kentucky with a $25,000 donation. In addition, UKFCU is honored to match your donation dollar for dollar, up to $25,000, for a maximum donation of $50,000. You can donate here: https://www.ukfcu.org/relief
Hindman Settlement School is looking for Volunteer Coordinators to help with the humanitarian effort in Knott County. The individuals chosen for the position will be responsible for leading resource distribution and organize volunteers. The pay is $20 per hour. https://tinyurl.com/2k42sfzu
From Appalachian Regional Healthcare: "Our Eastern Kentucky communities have been devastated by catastrophic flooding. Our residents are in desperate need of generators, transportation, food, water and access to health care and medicine. Please help today by donating at the link below."
Cleaning supplies, baby formula, food, diapers and supplies, pet food and supplies, pillows, blankets, personal hygiene items, nonperishable food items, water, can openers, disposable plates, utensils, gloves, Buckets and Bucket lids, Heavy Duty Gloves, Sponges, Mops, Floor squeegees, Paper Towels, Toilet Paper, Trash Bags, Bleach Lysol, Flashlights, Batteries, Underwear (all sizes adults and children) Socks (adults, children, baby), Children's clothing (all sizes), Laundry Detergent rubber boots and water are also being accepted at our Lexington office at 2260 Executive Dr Lexington KY.
Hours of collection: 8:00 AM – 8:00 PM Monday – Friday (through 8/5/22)
VETERAN'S ASSISTANCE From Mountain Top News: A DAV National Service Officer will be available to file claims for any veteran affected by recent flooding in damage to or loss of their homes. If you are a veteran who was honorably discharged from service, please stop by one of the two locations listed below to seek flood relief assistance from the DAV.
PIKEVILLE - Wednesday, Aug. 3, 10:00-4:00
Veterans Benefits Assistance Center
109 Division Street, Suite 2
Pikeville, KY 41501
HAZARD - Thursday, Aug. 4,10:00-4:00, Friday, Aug. 5,10:00-4:00
VA Clinic
210 Black Gold Blvd
Hazard, KY 41701
8/2/2022
July 28th, 2022 several Appalachian Counties in Kentucky and surrounding states were struck by devastating floods.
As of today, 37 lives have been lost and communities, infrastructure, and heritage sites have been wiped out.
In partnership with the UK Appalachian Law Caucus, the UK Appalachian Center will be collecting donations of supplies to deliver to the hard-hit region many of us call home. Donations of physical goods can be dropped off at the Appalachian Center - 624 Maxwelton Ct. 8:00AM - 5:00PM, Monday-Friday. We will update dates, times, and supply needs as we hear more from clean-up locations. We are operating on limited staff, if no one is there when you arrive, please leave items on the covered porch and they will be moved inside throughout the day. Donations can also be taken to the second floor of the UK Law Building through the UK Appalachian Law Caucus. 
URGENT NEEDS as of 8/2/2022 include heavy duty cleaning equipment such as large brooms, buckets, heavy duty contractor bags/trash bags, work gloves, bleach, soap, wheelbarrows, baby supplies, & non-perishable food items
Monetary donations can be made to several organizations supporting organizations throughout the region including:
https://secure.kentucky.gov/FormServices/Finance/EKYFloodRelief
https://hindmansettlementschool.app.neoncrm.com/forms/donate
https://appalshop.org/news/appalachian-flood-support-resources
https://cowancommunitycenter.networkforgood.com/projects/165997-summer-2022-flood-relief-fund-ccag?fbclid=IwAR06mNF6KzWsNA0gw8_7uVJtytjQpMHHeLOckT0nEZcbNDlJi7kfWFL_gsw
SUPPORT FOR UK STUDENTS
For student-related issues, such as counseling and basic needs support, please direct individuals to call our UK Center for Support and Intervention (CSI) at 859-257-3755.
If you or someone you know has been affected by the flooding and needs support, please reach out to us at crisisresponse@uky.edu. For more general questions, calls can be directed to UK Health Corps at 859-218-SAFE.
If you would like to support the UK community, you can donate to our Basic Needs and Persistence Fund for students or our Crisis Program Gift Fund for faculty and staff.
FEMA ASSISTANCE
Those impacted​ by ​​fl​ooding in Breathitt, Clay, Floyd, Knott, L​​etcher, Perry or Pike counties can apply for individual assis​tance by calling 800-621-3362​,​ going online to DisasterAssistance.gov, or using the FEMA App (available on Google Play or in the Apple App Store).
MISSING PERSONS
Please do not call 911 to report missing persons. 
If you wish to report a missing loved one in the counties of Breathitt, Perry, Knott, Letcher or Leslie counties, contact Post 13 Hazard at 606-435-6069​​.
If you wish to report a missing loved one in the counties of Magoffin, Johnson, Martin, Floyd, or Pike counties, contact Post 9 Pikeville at 606-433-7711.
If you wish to report a missing loved one in the counties of Jackson, Owsley, or Lee counties, contact Post 7 Richmond at 859-623-2404.
If you wish to report a missing loved one in the counties of Wolfe or Morgan counties, contact Post 8 Morehead at 606-784-4127.
If you wish to report a missing loved one in Harlan County, contact Post 10 Harlan at 606-573-3131.