Location:
UKAA Auditorium William T. Young Library
Speaker(s) / Presenter(s):
Sharyn Mitchell
​​​​​ Sharyn Mitchell, former Research Services Specialist at Berea College Special Collections and Archives will present "We, Too, Were Here!" exploring the often hidden contributions of African Americans to Kentucky history. Sharyn will be presenting at 3pm at the UKAA Auditorium in the William T. Young Library. Also join us also for a lunch reception with Sharyn at noon at the Appalachian Center. 
Sharyn will discuss how our archives and historical repositories have been silent or silenced by omission or commission and fail to speak of the presence, accomplishments, and contributions African Americans have made to our Kentucky history. Sharyn believes there are two sides to every story and that from an African proverb we learn that until the lion tells her story, the hunter always wins. Sharyn will relate how we were here from the beginning of KY history and how our stories can be no longer silenced.
This event is co-sponsored by UK Libraries, the Appalachian Center & Appalachian Studies Program, the Commonwealth Institute for Black Studies, and the African American and Africana Studies Program. 
Sharyn Mitchell Bio
Sharyn Richards Mitchell is a native of Berea, Kentucky whose passion for genealogy led her to co-found the African-American Genealogy Group of Kentucky, a nationally recognized non-profit organization and the first of its kind in Kentucky.  She recently retired from her position as the Research Services Specialist at Berea College Special Collections and Archives where she readily admits, "I got paid to play!"  She is the fourth generation of her family to attend Berea College where she received their Carter G. Woodson Diversity Award and the Rodney Bussey Award of Special Merit.  She is also recipient of the Blue Grass Trust Barbara Hulette Award for historic preservation.  
Mitchell holds a Bachelor of Public Affairs from Kentucky State University.  She currently serves on the boards of the African American Genealogy Group of KY, the Kiwanis Club Foundation of Berea, the Madison County Historical Society and is a member of the Berea Human Rights Commission.  She has spoken to numerous groups focusing on Kentucky's African American heritage.  In conjunction with the James Harrod Trust and the Kentucky Oral History Commission, she has conducted interviews documenting the experiences of Harrodsburg's Westside High alumni, Kentucky war veterans, and students of Middletown Consolidated Rosenwald School in Berea.
Mitchell shares her passion for research by teaching and by documenting the "other side" of the story.  Her goal is to uncover hidden truths, reverse stereotypes, and to create an awareness of being a proud, accomplished people.  Associates from far and wide praise her ability to make history come alive. She encourages all to "Keep Sharing"!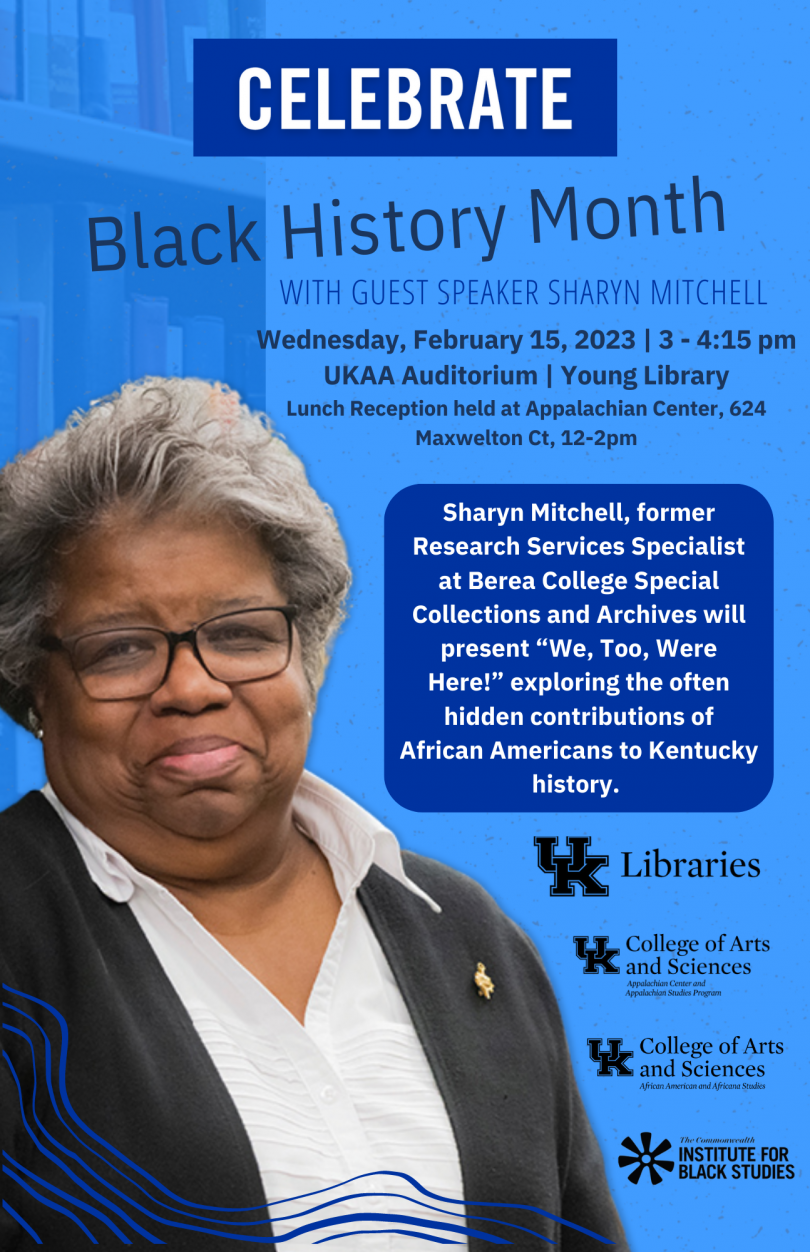 Type of Event (for grouping events):