A&S Students Find Compassion, Knowledge With "Holler Back!" Podcast on Appalachia
By Richard LeComte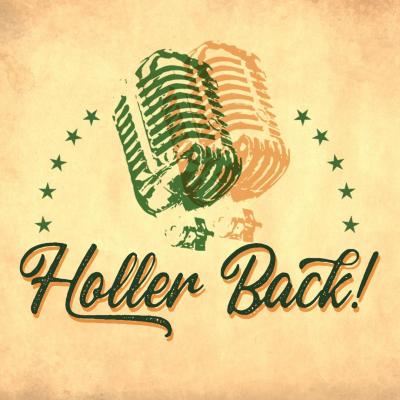 On episode five of "Holler Back!," Stacie Fugate and Michael Hamilton converse with Montgomery County High School senior Larah Helayne, a singer-songwriter whose activism for LGBTQ issues in Montgomery County, Kentucky, has brought her attention in Appalachia. During the podcast, Fugate talks to the teenager about her strong emotional reaction to hearing Helayne's songs.
"I'm sitting in the audience and crying," Fugate says. "It wasn't just me; everybody around me is crying."
That kind of emotional attachment to Appalachia and its people sparks the passion Fugate and Hamilton bring to "Holler Back!," a podcast run by two Appalachian Studies minors in the College of Arts & Sciences at the University of Kentucky. The podcasts themselves are part of the programming of UK's Appalachian Center & Appalachian Studies Program. Other topics in the podcasts, which started in February, include the drinking water crisis in Martin County; pharmacist and bluegrass musician Kris Preston; and Teach for America in the Appalachian Region.
"We're mainly talking with fun people from Appalachia and exploring what other people might want to know about the region," said Hamilton, a political science major with minors in Appalachian studies and international studies who graduated in May.
Both Fugate and Hamilton are from Kentucky and have strong roots in Appalachia – Hamilton grew up near Paintsville, and Fugate is from Hazard. Their backgrounds informed their studies at UK and led them to pursue minors in Appalachian studies. For example, Fugate learned to be less self-conscious about her Kentucky accent.
"When I first came to UK, people always commented on my accent," said Fugate, who's a rising senior majoring in political science. "There were a few people who wrote me off because of how I speak, so I got to the point where I was afraid to speak in class. But eventually I overcame that fear, and it felt good to surprise people that yes, I am intelligent."
Hamilton was impressed with the array of topics the minor encompasses. The minor consists of 18 hours of interdisciplinary coursework; the program also offers a 12-hour undergraduate certificate in Appalachian Studies.
 "It involves political science, history, sociology anthropology – it's all an evaluation of the history of the region," he said. "It's incredible to view a culture that seems so normal to me with these different perspectives."
The podcasts arose from an idea the two had when they were working together in UK student government.
"Michael and I always joked about how when we were in student government, any time a question came up about Appalachia they asked us," she said. "When they wanted to do something for eastern Kentucky, we were the source."
So they began thinking about creating an Appalachia-themed podcast. That's where Kathryn Engle, Associate Director of the Appalachian Center and Appalachian Studies Program, comes in. They asked about creating the podcast for an independent study credit. Dr. Engle helped the students set up and host the podcast on the Center's website as part of an independent studies project.
"I had them both in class last fall in APP 200: Introduction to Appalachian Studies," Engle said. "We talked about some of the topics in class that they used in the podcast. They were both wonderful students. It was great to be able to work with them on a one-on-one basis every other week. We'd talk about the podcast, who to talk with and what resources were available in conjunction with the podcasts."
In March, as part of UK's switch to remote learning, the podcasters had to start putting their shows together remotely.
"They excelled in adversity," Engle said. "We had to switch over to an online remote podcast program, so they were able to make those adjustments."
"The podcast software is challenging," Hamilton said. "Stacy has done an awesome job with the software. We could not do this without her."
Fugate and Hamilton put a lot of work into finding appropriate people to discuss Appalachian issues and also try to build expertise into the podcasts.
"There are a lot of UK connections," Fugate said. "I'd highlight the one with Madison Mooney, who was one of the interns in the Appalachian Center. She'd been working in Martin County and the issues surrounding the county's access to quality water."
The students hope to add more podcasts this summer, and Fugate plans to continue "Holler Back!" in the fall. They hope to bring more light to a region they love, with an eye toward care, compassion and learning.
"I'm passionate about the issues in the region," Fugate said. "It's where I'm from."