There are four main mechanisms of bedrock channel erosion—abrasion, dissolution, cavitation, and weathering-and-plucking. The latter occurs when weathering along joints and bedding planes of the bedrock loosens slabs or clasts, which are then entrained (plucked) during high flows. Cavitation is difficult to observe or prove in the field, but likely occurs in the stream I visited this week, Raven Run (near Lexington, KY). The other mechanisms all clearly exist.
Weathering and plucking is the dominant erosion mechanism of the bedrock streams hereabouts—the photo shows the flat surfaces and angular features that result from weathering along the horizontal bedding planes of the limestone and the frequent vertical joints, and subsequent removal of the resulting slabs.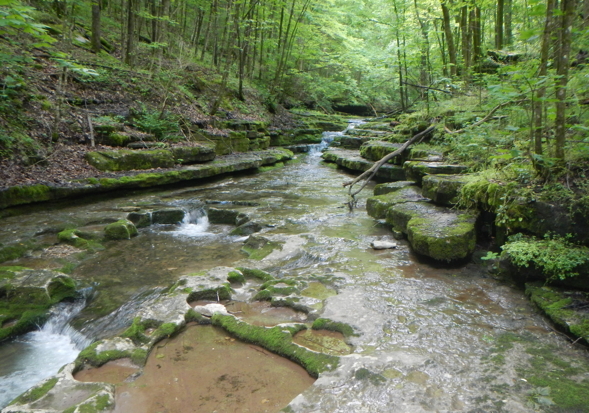 Raven Run, Kentucky.